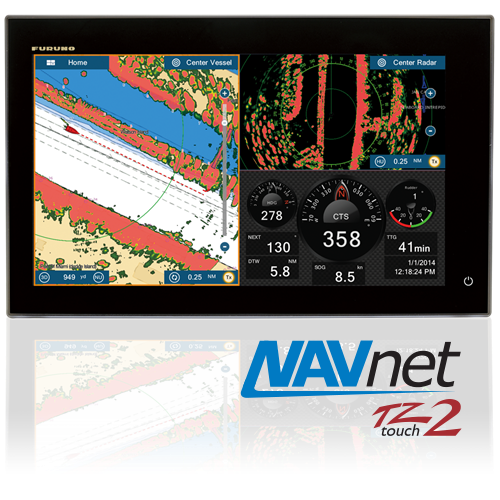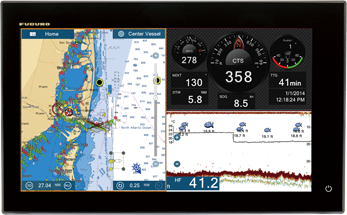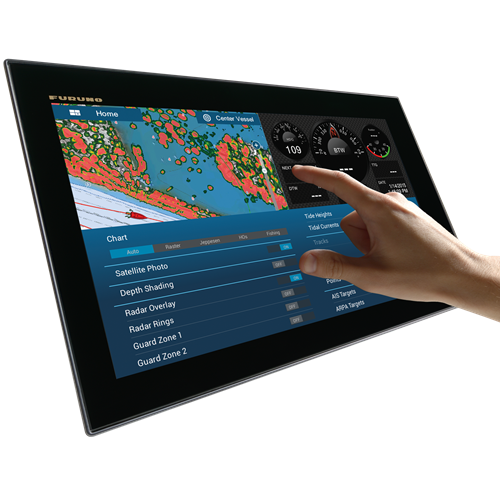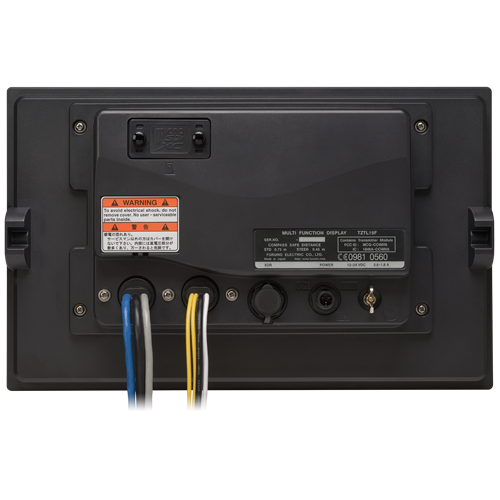 MSRP: $3,795.00
NavNet TZtouch2 Chart Plotter/Fish Finder, 15" Touch Screen Display
Display TypeColor Multi Touch LCD
Prices and Specifications Subject to Change Without Notice.
All prices shown are in USD. Prices are valid in US and Canada only.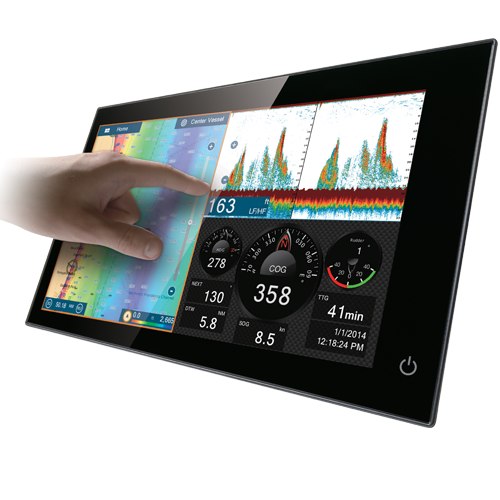 Total Control, simply refined
With a sleek all-glass front, refined graphical user interface, built-in RezBoost Fish Finder, and an internal GPS antenna, NavNet TZtouch2 is a beauty to behold and use. Whether you are searching for hot fishing grounds, plotting your next route, or using your Radar to navigate through fog, TZtouch2 delivers smooth operation with familiar touch gestures. Sporting and edge-to-edge glass front, NavNet TZtouch2 is beautifully designed, allowing you to build a navigation suite that is not only functional, but offers a luxurious look and feel.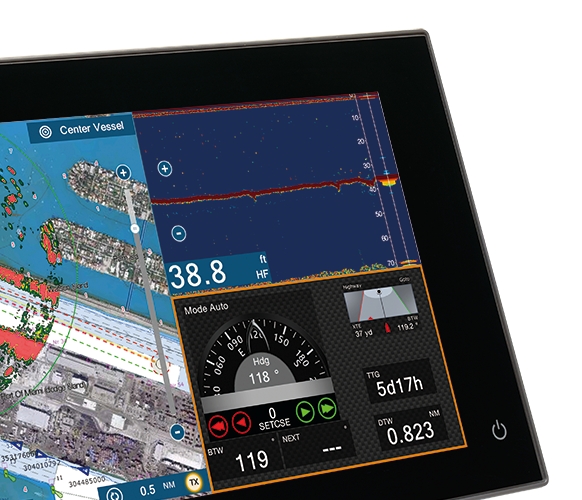 Simply refined, simply beautiful
Following in the footsteps of the original NavNet TZtouch, TZtouch2 features a refined user interface that is all about usability. Elegantly designed, NavNet TZtouch2 allows you to build a navigation suite that is not only functional, but offers a luxurious look and feel. Taps, swipes, pinches, and custom multi touch gestures are instantly transformed into action, giving you full control of every component connected to your network.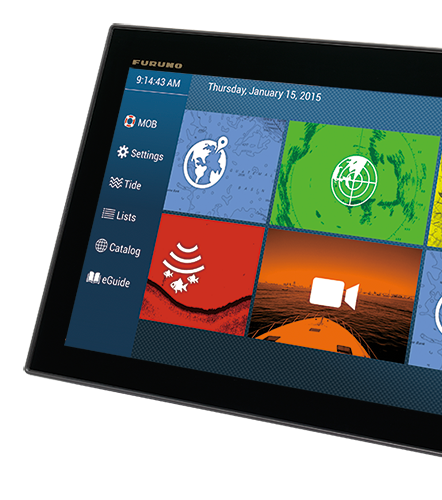 Incredibly easy-to-use graphical user interface
The NavNet TZtouch2's Multi Touch graphical user interface sets a new benchmark for "easy to use" in the marine electronics industry. This interface is not only intuitive, but is as easy to use as the phone in your pocket. With taps, slides and swipes, you will be up and using your TZtouch2 in no time at all. Menus and other features slide out from each of the sides of the screen, ensuring that the most important tasks are literally right at your fingertips.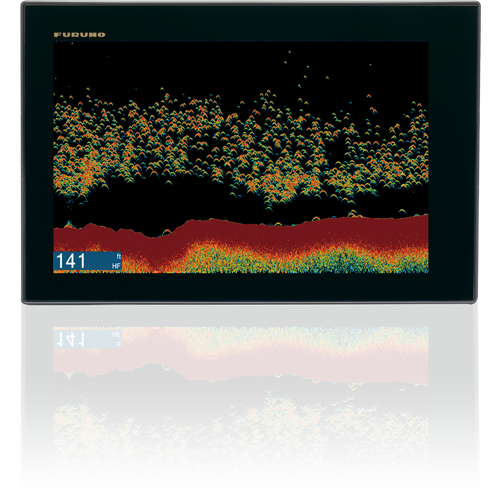 Powerful Fish Finder with built-in Furuno features
The built-in Fish Finder is a dual-frequency (50/200kHz), 600W/1kW power output sounder. It includes Furuno's unique Bottom Discrimination and AccuFish modes, and also incorporates another new Furuno proprietary Fish Finder technology, called RezBoost. RezBoost is a revolutionary new feature that utilizes Furuno's exclusive digital signal processing protocol to produce fantastic target resolution and separation, without the need to change out your transducer, or purchase expensive broadband transducers. With RezBoost, you can now achieve target separation and resolution that was previously limited to Furuno commercial-grade Fish Finders.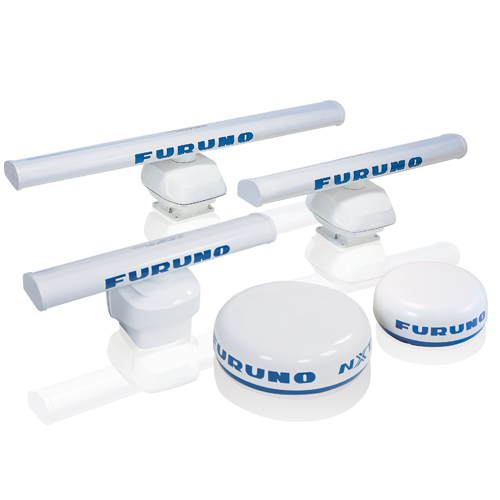 Freedom to build the helm of your dreams
NavNet TZtouch2 is a component-based system that utilizes Furuno's award winning network products. You can add a variety of UHD Radars, from a 4kW NXT Dome up to a 25kW X-Class Open Array. As with NavNet TZtouch, you can integrate, display, and control the NavPilot Autopilot, and Furuno's FI70 Instrument. Both of these products have displays that match TZtouch2, giving your helm a beautiful all-glass finish. Additional sensors that can be added to the network include AIS, Weather Fax, Sirius/XM Satellite Weather, Fusion Marine Stereo, and IP Cameras, as well as NMEA2000 and Furuno CAN bus devices. It even includes one NMEA0183 output port to send data to legacy systems.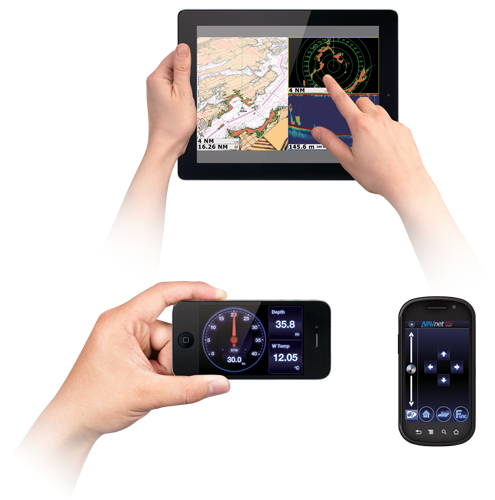 Remotely view and control your bridge with apps for your smartphone and tablet
Engineered to utilize the latest technology, NavNet TZtouch opens the door to cutting edge WiFi features, such as tablet and smartphone apps, points of interest (POI), real time weather data, software updates and more. Take full control of your NavNet in a whole new way. The TZtouch Remote app allows you to operate your system remotely with your smartphone or tablet over WiFi, when connected to the network.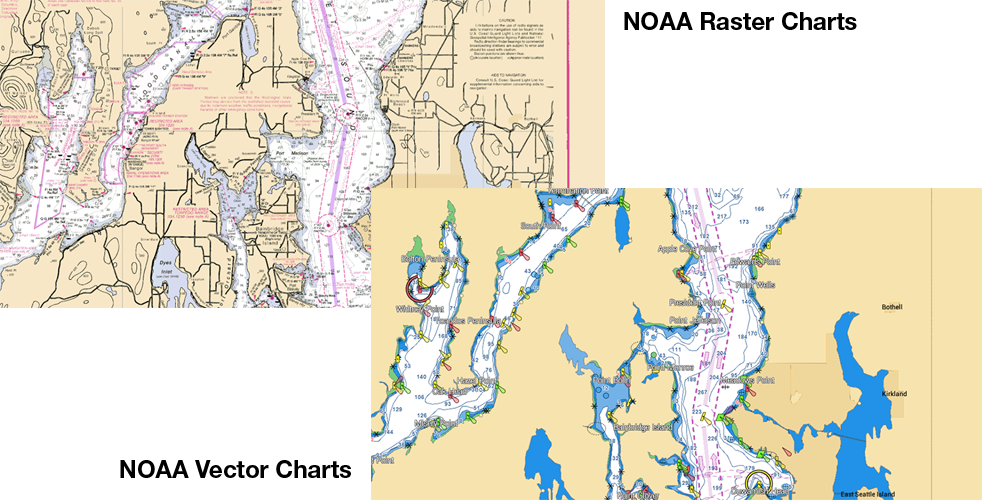 MapMedia Raster and Vector Chart Library
Freely choose the charts that fit your individual needs and preference. MapMedia's NOAA Raster and Vector charts for the U.S. Coasts, Gulf of Mexico, Alaska and Hawaii come pre-loaded. In addition, MapMedia brings you free satellite photos and detailed fishing bathymetric charts that can be download for the U.S. Outside of the U.S., "C-MAP" vector cartography can be purchased and downloaded to your NavNet with ease. MapMedia cartography integrates cutting edge algorithms with high resolution image processing techniques to deliver a fusion of digital navigation charts and satellite photography.
Satellite PhotoFusion™ offers a birds-eye view without obstruction of critical data
You can load any two ultra-wide high-resolution satellite photo areas at your convenience. Land areas (zero depth) are completely opaque, so these areas are displayed as high-resolution satellite photos on the chart. As the depth increases, the satellite photography becomes more transparent. This allows you to see where the shallows end and the deeper water begins, while still allowing the raster or vector chart to be visible.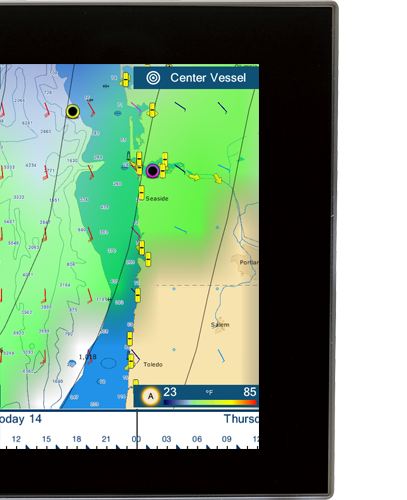 Free & easy-to-use marine weather forecasts
The weather tool is completely free and easy to use, giving you unlimited access to weather forecasts worldwide 24 hours a day provided by NavCenter. Select geographic coverage, data type, period of time, and then choose how to receive the file. NavNet TZtouch2 provides up to 16 days of weather forecasting.
UHD Digital Radar Sensors
Cables
Related Products
Transducers
Bottom Discrimination Transducers
Smart Sensors
Miscellaneous Accessories
UHD Digital Radar Sensors
UHD Digital Radar Sensors
Cables
Cables
$85.00
Power Cable TZT2, TZT9F
$70.00
CBL NMEA2K MICRO-F 6M S-END
$50.00
NMEA2000 Micro Cable, 1 Meter, Male-Female connectors (straight)
$60.00
NMEA2000 Micro Cable, 2 Meter, Male-Female Connector
$80.00
NMEA2000 Micro Cable, 6 Meter, Male-Female Connector
$35.00
NMEA2000 Micro Cable, 1 Meter, Female connector (straight) + Pigtail - When 0 Stock, go to 001-507-010-00
$55.00
NMEA2000 Micro Cable, 1 Meter, Female Connector + Pigtail
$80.00
NMEA2000 Micro Cable, 2 Meter, Female Connector + Pigtail
$55.00
LAN CBL ASSY 2M RJ45XRJ45 4P
$65.00
LAN CBL ASSY 5M RJ45 X RJ45 4P
$100.00
LAN CBL ASSY 10M RJ45XRJ45 4P
$52.00
NMEA2000 Micro Cable, 6 Meter, Female connector + Pigtail
Related Products
Transducers
Transducers
This unit utilizes a 10-pin Transducer/Multisensor connection. These transducers enable all standard Fish Finder features including RezBoost, but DO NOT support Bottom Discrimination. To utilize the Bottom Discrimination mode of the TZTL15F please select a transducer from the "Bottom Discrimination Transducers" list.
Bottom Discrimination Transducers
Bottom Discrimination Transducers
These transducers enable all Fish Finder features noted in the description, INCLUDING Enhanced RezBoost and Bottom Discrimination. If you will not be using the Bottom Discrimination mode, you can also select a transducer from the standard Transducer List. Note that the CA50/200-12M and CA50/200-1T require the use of MB1100 Transducer Matching Box.
Smart Sensors
Smart Sensors
$325.00
Plastic Thru-Hull, Digital Depth and Temp Sensor, NMEA2000
$350.00
Plastic Thru-Hull, Digital Depth, Speed and Temp Sensor, NMEA2000
$350.00
Plastic Transom Mount, Digital Depth, Speed & Temp Sensor, NMEA2000
$375.00
Plastic In-Hull, Digital Depth Sensor, NMEA2000
Airmar P79 Housing Style Transducer
$650.00
Bronze, Long Thru-Hull, Digital Depth and Temp Sensor, NMEA2000 w/HSFB
$400.00
Bronze Thru-Hull, Digital Depth, Speed and Temp Sensor, NMEA2000
$395.00
Bronze Thru-Hull, Digital Depth and Temp Sensor, NMEA2000
$425.00
Bronze Thru-Hull, Digital Depth, Speed, Temp Sensor, NMEA2000
Miscellaneous Accessories
Miscellaneous Accessories