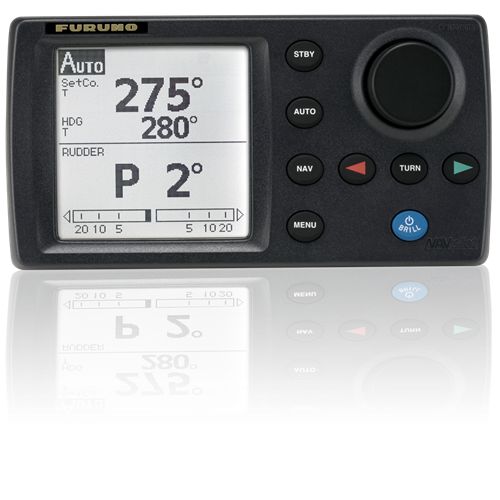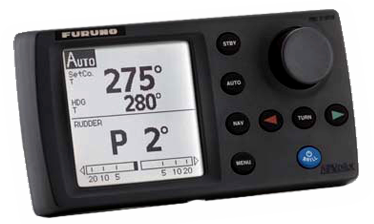 MSRP: $3,395.00
Self Learning, Adaptive Autopilot - Double-Din Size Display
Prices and Specifications Subject to Change Without Notice.
All prices shown are in USD. Prices are valid in US and Canada only.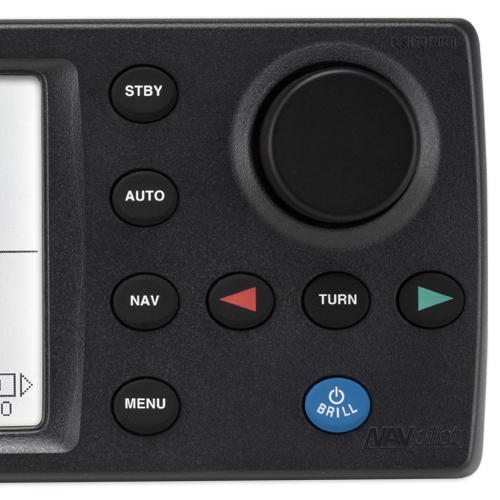 Kick back, relax and let NavPilot steer you to your destination
FURUNO's NavPilot is a revolutionary autopilot with a sunlight viewable display designed for a variety of vessels. It utilizes a self-learning and adaptive software algorithm, and plays the ultimate role in course-keeping capability. NavPilot dynamically adjusts essential parameters during navigation, such as vessel speed, trim, draught, tide and wind effects, dead band, weather and more. These parameters are stored in system memory and continuously optimized to make the NavPilot more versatile.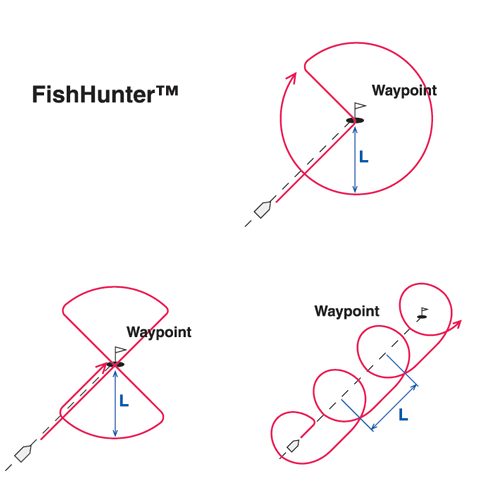 Integrate your helm with NavPilot's FishHunter mode
FishHunter mode is a unique feature of FURUNO's NavPilot series. Find a fish target with your FURUNO sonar/sounder or bird target with your FURUNO radar and feed it to the NavPilot The NavPilot will activate the FishHunter mode to perform square, zigzag, circle, orbit, spiral or figure-eight maneuvers around the specified target at a user selected distance. This feature can also be used for Man Overboard (MOB).
*RRU (Rudder Reference Unit) required to enable Fish Hunter mode on NavPiot 711C/OB models
*FishHunter mode and NavPilot 300's FishHunter Drive for Suzuki Outboards are different features with their own requirements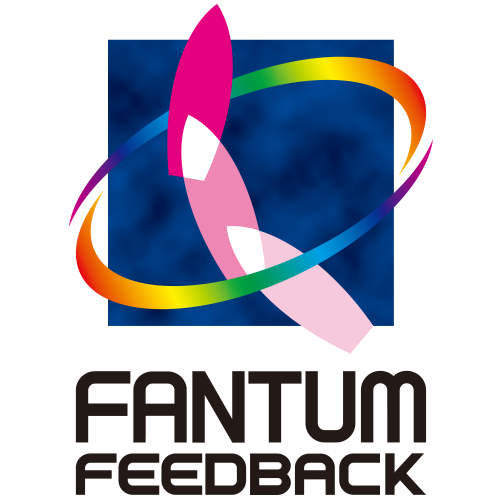 Furuno Fantum Feedback
With Fantum Feedback, NAVpilot outboard/sterndrive installations no longer require use of a physical rudder feedback unit. NAVpilot software clears the path to a simplified installation, while also delivering enhanced steering control.
Product Consists Of
Cables
Related Products
Autopilot Pumps
Miscellaneous Accessories
Manuals
Product Consists Of
Cables
Cables
$105.00
CTRL CBL 10M PIGTAIL FAP7001
$145.00
CTRL PIGTAIL 15M W/CON FAP7001
$165.00
CTRL CBL 20M PIGTAIL FAP7001
$145.00
CTRL CBL 10M W/CONN FAP7001
$150.00
CTRL CBL 20M W/CONN FAP7001
Related Products
Related Products
$1,730.00
Jog-Lever Remote Control (Non Follow-Up Type) with 10-Pin Connector for Connection to the FAP6800
$1,730.00
Handheld, Jog-Lever Remote Control (Non Follow-Up Type) with Bare Wires for Connection to the Processor Junction Box
$320.00
Dodge-Type Remote Control (Non Follow-Up Type) with 10-Pin Connector for Connection to the FAP6800
$320.00
Dodge-Type Remote Control (Non Follow-Up Type) with Bare Wires for Connection to the Processor Junction Box
$290.00
Remote Control Distributor Box, Three Port
$1,200.00
Follow Up Lever Controller
$850.00
Non-Follow Up Lever Controller
Autopilot Pumps
Autopilot Pumps
$810.00
0.5 CUBIC INCH P/SEC PUMP 12V (For Ram Sizes less than 8 Cubic Inches in Volume)
$810.00
24 0.5 CUBIC INCH P/SEC PUMP 24V (For Ram Sizes less than 8 Cubic Inches in Volume)
$810.00
Autopilot Pump, 12 VDC, 1.1 Cubic Inches Per Second (For Ram Sizes of Up to 13 Cubic Inches in Volume)
$810.00
Autopilot Pump, 24 VDC, 1.1 Cubic Inches Per Second (For Ram Sizes of Up to 13 Cubic Inches in Volume)
$810.00
Autopilot Pump, 12 VDC, 1.7 Cubic Inches Per Second (For Ram Sizes of 14 Cubic Inches to 25 Cubic Inches in Volume)
$810.00
1.7 CUBIC INCH P/SEC PUMP 24V
$1,600.00
0-3.5 CU IN/SEC ADJ PUMP 12V
$1,600.00
0-3.5 CU IN/SEC ADJ PUMP 24V
$2,750.00
LIN. ACTUATOR PUMP 9" RAM 12V
$2,380.00
Linear Actuator, 9" Ram,12V
Miscellaneous Accessories
Miscellaneous Accessories
$1,200.00
Follow Up Lever Controller
$850.00
Non-Follow Up Lever Controller
$2,750.00
Optional interface kit that allows NavPilot 700 series to control Volvo Penta IPS Systems
$1,900.00
YAMAHA HM IF KIT NP 700/711
$125.00
Remote Junction Box, FAP7021
$35.00
TERMINATOR NAVPILOT 700
$145.00
FLUSH MOUNT KIT NAVPILOT 700
$490.00
MTG BRKT W/KNOBS NAVPILOT 700*
$950.00
NavPilot 700 Series Power Steering Module, for use with HRP-style pumps only
Manuals
Manuals
$40.00
INST MNL NAVPILOT 700/711/720
$50.00
OP MANUAL NAVPILOT 700/711/720