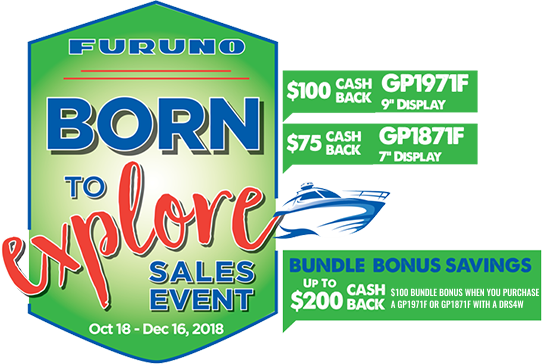 Getting in the boat and setting your course for adventure is just who you are. It's in your blood. You may work during the week, but when it comes to the weekend, you were born to explore! Let Furuno help you make the most of your weekends with the Born To Explore Sales Event. Outfit your helm with the very latest Furuno GPS Chart Plotter/Fish Finder, and we'll put money back in your pocket. Better yet, bundle either of these Combo Units with the DRS4W 1st Watch Wireless Radar and we'll sweeten the pot with a $100 Bundle Bonus.
Just purchase a GP1971F or GP1871F, then fill in the serial numbers on the rebate form linked below. Purchase a DRS4W and fill in the serial number to add a $100 bonus to your rebate. Finally, fill in your contact information on the back, then send us this form along with your proof of purchase, and we'll send you a check that you can use to explore some more!
Click here to download the Born To Explore Rebate form!
Summer might be a distant memory, but we know you're already planning how next season is going to be even better, and it all starts with new electronics from Furuno. This boat show season, Furuno is proud to bring you The NavNet TZTouch2 Rebate Event, making it the perfect time for updating or upgrading your helm. Purchase any of the below Furuno products, including NavNet TZtouch2 and the most reliable Radar and Fish Finder sensors on the market, then send in the rebate form linked below to receive a big check from Furuno.
Through February 2, 2019, you can get up to $500 back on NavNet TZtouch MFDs, up to $200 back on NavNet DRS Radars, and up to $200 back on NavNet Fish Finders.
Click Here to download the NavNet TZtouch2 Rebate Form!

Purchase Furuno's new GP1871F or GP1971F Chart Plotter/Fish Finder Combo and you are eligible for an instant $100 Rebate from C-MAP!
Now is the best time to get on the water with the very latest technology, while saving money at the same time! The math is easy... simply purchase Furuno's a new GP1871F or GP1971F Chart Plotter/Fish Finder Combo unit, then contact C-MAP directly at (800) 424-2627 to purchase a 4D Wide chart of your choice for only $199. That's a $100 Instant Rebate!
Here's what you get with your C-MAP 4D Wide Chart:
Full featured vector charts
Dynamic raster charts
High Resolution Bathymetric charts
EasyRouting
Satellite overlay
Active Captain cruising database
Plus, get 1 year of free updates and an unlock for C-MAP's mobile app, Plan2Nav ($30 value) when you register your Wide card on C-MAP's webstore at https://store.c-map.com.
Here's how to get your Instant $100 Rebate from C-MAP, NO forms to fill out or labels to cut off the box!
Call C-MAP directly at (800) 424-2627
Provide proof of purchase of GP1871F or GP1971F
Select chart coverage area (visit https://store.c-map.com for coverage areas)
Purchase your card and receive instant $100 rebate
Terms and Conditions
Proof of purchase of a GP1871F or GP1971F required
One rebate per customer
Valid only on 4D Wide charts (Local and Continental titles do not apply)
Shipping is the responsibility of customer
Offer valid in U.S. and Canada only
Offer valid from May 7, 2018 - December 31, 2018