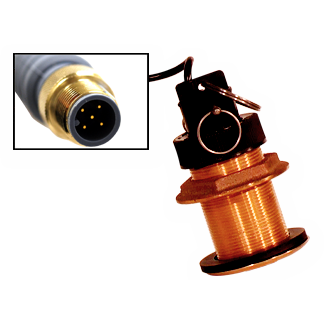 MSRP: $395.00
Bronze Thru-Hull, Digital Depth and Temp Sensor, NMEA2000
Prices and Specifications Subject to Change Without Notice.
All prices shown are in USD. Prices are valid in US and Canada only.
Transducer Features
Airmar B617V Housing Style Transducer
Designed with Airmar's exclusive Broadband Ceramic Technology, the DT-800MSF's 235 kHz element improves resolution without sacrificing sensitivity. The higher power rating 100 W RMS provides spot-on depth readings in as little as 0.45 m (1.4') of water and can reach depths up to 180 m (600').
Standard Features
Depth and temperature in one compact bronze housing
Fast-response temperature sensor provides ±0.2°C (±0.1°F) accuracy
Weight: 1.5 kg (3.4 lb)
Acoustic Window: Urethane
Data Update Rate: 1 per second
Minimum Sounding Depth: 0.5 m (1.6')
Maximum Sounding Depth: 180 m (590')
Pressure Rating: 3 m (10')
Pulse Rate: 20,000 p/nm* (5.6 Hz per knot)—*p/nm = pulses per nautical mile
Smart Sensor Supply Voltage at 100% Sound Power Output: 10 VDC to 25 VDC
Supply Current: 40 mA S
tandard Cable Length: 6m
NMEA 2000® Load Equivalency Number (LEN): 4