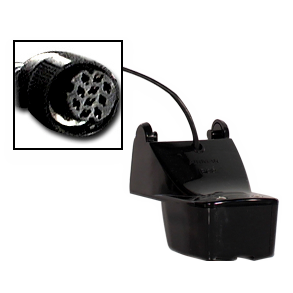 MSRP: $120.00
Plastic Transom Mount Transducer with Temp, 600W (10-Pin)
Beam Angle45 and 12 Degrees
Install TypeTransom Mount
Shipping Info5 lbs, 1 Carton, 12x9x6
Prices and Specifications Subject to Change Without Notice.
All prices shown are in USD. Prices are valid in US and Canada only.
Transducer Features
Airmar P66 Housing Style Transducer
Standard Features
600 Watts
50/200 kHz
45/12 degree Beam Angles
Plastic Transom Mount with Temperature
30 Foot Cable with 10-Pin Connector
This unit uses the Airmar P66 housing which is available in two different styles that utilize different mounting hardware.
Cables
Miscellaneous Accessories
Cables
Cables
$75.00
Adapter Cable, 10-Pin Transducer to 8-Pin Sounder
$85.00
Transducer Extension Cable, 10-Pin(M) to 10-Pin(F), 4 Meters
$55.00
Transducer Pigtail, 10-Pin(F), 2 Meters
$80.00
Transducer Y-Cable, 10-Pin (F) to 10-Pin (M) and 6-Pin (M)
Miscellaneous Accessories
Miscellaneous Accessories
$15.00
Plastic Kick-Up Bracket (Style-B)
$13.00
Multisensor Junction Box