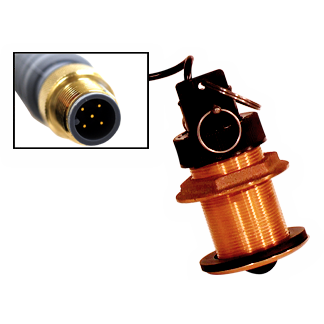 MSRP: $400.00
Bronze Thru-Hull, Digital Depth, Speed and Temp Sensor, NMEA2000
Prices and Specifications Subject to Change Without Notice.
All prices shown are in USD. Prices are valid in US and Canada only.
Transducer Features
Airmar B617V Housing Style Transducer
The DST-800MSF offers depth, speed, and temperature in a single, 51 mm (2") fitting. Only one hole through the hull simplifies the installation — an attractive feature for boat builders and boat owners alike. Patented, speed-signal-processing enhancements provide excellent paddlewheel accuracy below 5 knots (6 MPH) and smooth linear output at all vessel speeds. The transducer's wide, fan-shaped, fore-aft beam is able to find bottom even when installed on steep deadrise hulls or heeling sailboats. You also get true water-temperature readings with the DST-800MSF's reliable temperature sensor.
Standard Features
Depth, speed, and temperature in one compact bronze housing
Fast-response temperature sensor provides ±0.2°C (±0.1°F) accuracy
Weight: 1.6 kg (3.5 lb)
Acoustic Window: Urethane Hull
Deadrise: Up to 22°
Data Update Rate: 1 per second
Minimum Sounding Depth: 0.5 m (1.6')
Maximum Sounding Depth: 70 m (230')
Pressure Rating: 3 m (10')
Pulse Rate: 20,000 p/nm* (5.6 Hz per knot)—*p/nm = pulses per nautical mile
Smart Sensor Supply Voltage at 100% Sound Power Output: 11.5 VDC to 25 VDC
Supply Current: 40 mA
Standard Cable Length: 6m
NMEA 2000® Load Equivalency Number (LEN): 4