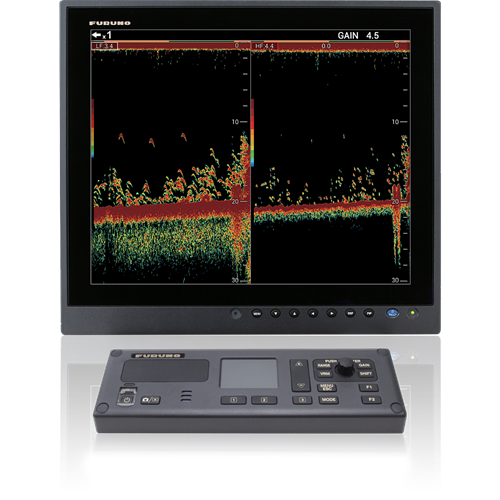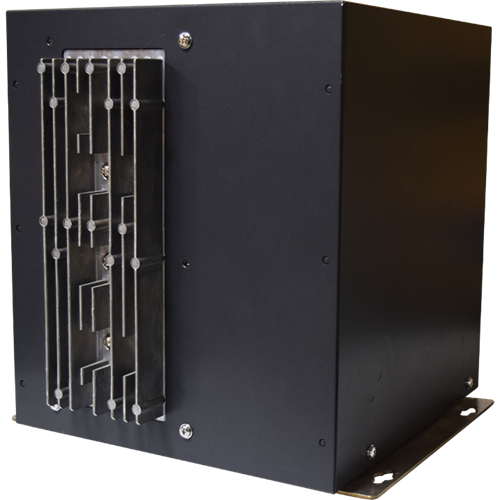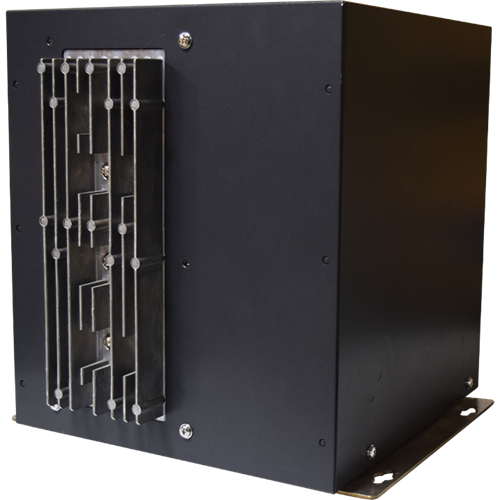 MSRP: $7,495.00
Price Less Transducer
Black Box Hi-Res Dual Frequency Fish Finder
Display SizeSupplied Separately
Display TypeSupplied Separately
Power Output1 kW or 2 kW or 3 kW
Prices and Specifications Subject to Change Without Notice.
All prices shown are in USD. Prices are valid in US and Canada only.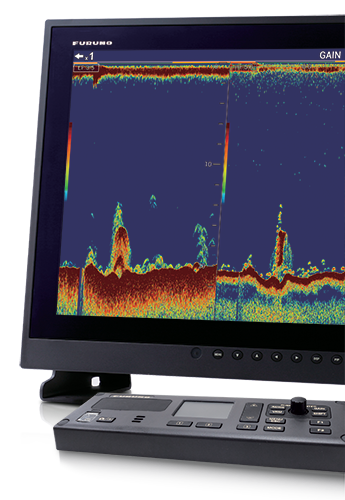 See underwater with incredible high definition echoes
The FCV1900 is a powerful, dual-frequency Fish Finder designed for both commercial and sport fishing boats. It comes with an easily set 1kW, 2kW or 3kW transmitter. It features the Furuno Free Synthesizer (FFS) transceiver, which allows easy selection of a broad range of operating frequencies (15 kHz to 200 kHz).
Retrofitting is made easy with FFS technology. You can easily replace an older FCV1200 processor unit while utilizing the same transducer for convenient installation. Plus we've made the operation of the FCV1900 simple and intuitive with the improved control unit. The control unit features a water resistant touch pad that works even when wearing rubber gloves. You can use the touch pad for setting up VRM and TLL in an instant.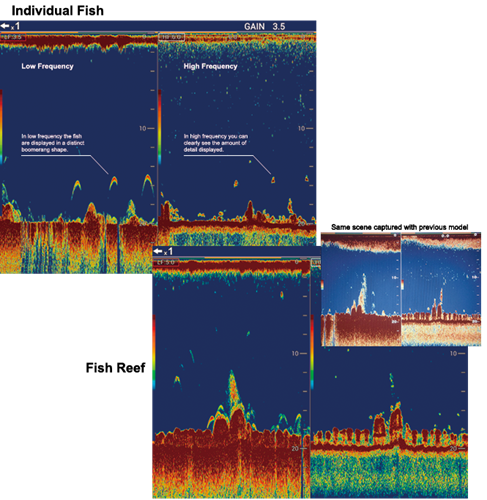 More vivid details due to our increased transmission rate
With a transmission rate that has been increased by up to 1.4 times (200m range), the FCV1900 series ensures excellent target separation and clarity. You will be seeing individual targets and fish reefs like never before.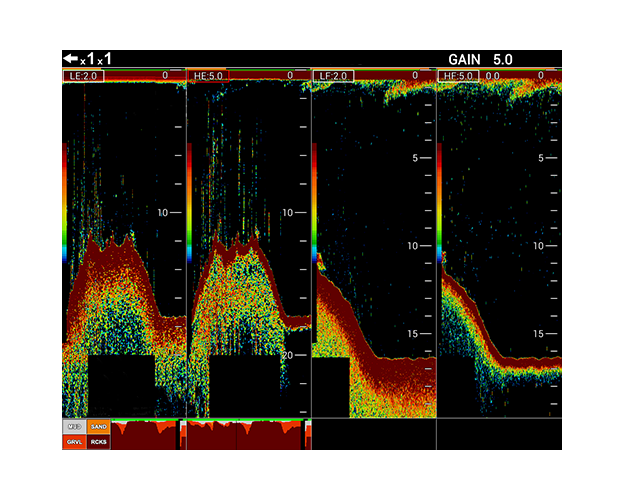 Display up to four different frequencies
Display up to four different frequencies together in a compact and easy way by connecting a required network Fish Finder. Since there is no need to install additional displays, this system is especially useful for small vessels. When connected to the BBDS1 you gain the bottom discrimination function, which indicates whether the bottom is composed mainly of rocks, gravel, sand or mud. This information aids in identifying fish species and minimizing bycatch, which can increase efficiency.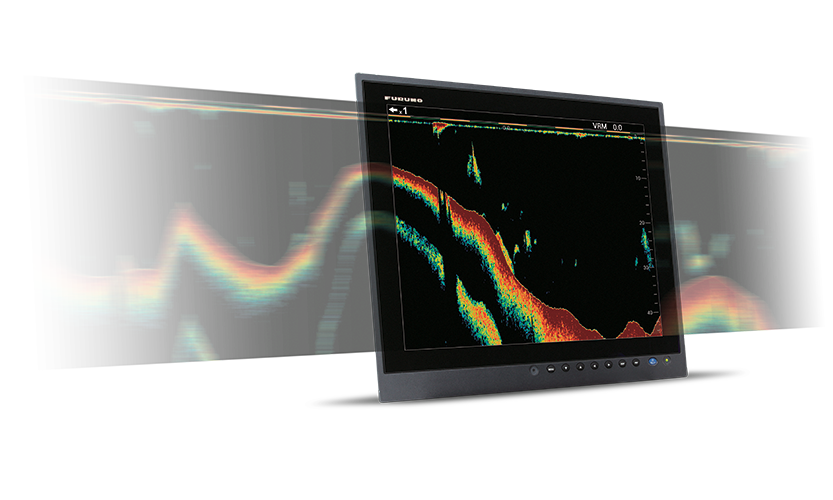 Did you see that? now you can with the scroll back function
With the press of a button you can activate the scroll back function to instantly review past echoes. Up to two previous screens can be viewed.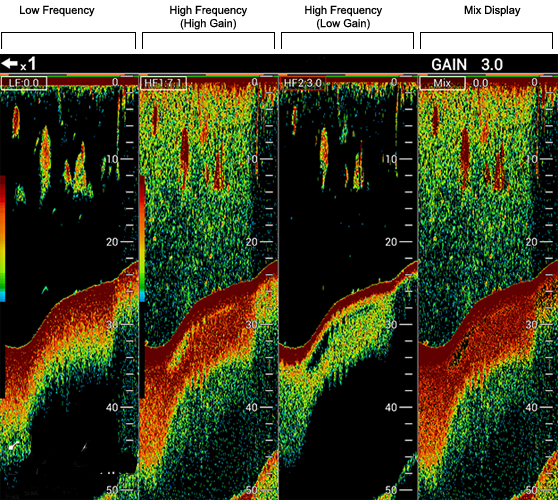 Instantly see what you've been missing
Use the Simultaneous Gain Setting to increase the visibility of the echo returns on the screen. Display two different gain settings simultaneously for increased visibility in changing water conditions and when changing vessel speed.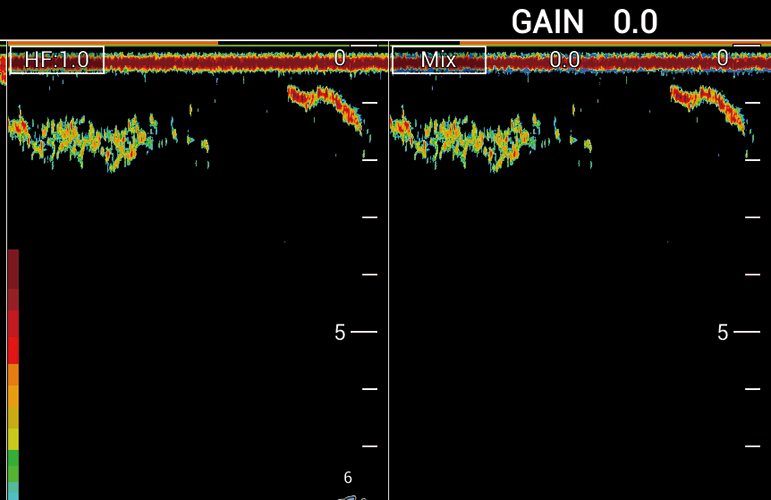 Enjoy outstanding shallow water performance
Observe clear echoes from just 3 meters below your vessel with Zero Line Rejection, allowing you to better analyze the water column from near to far.
Cables
Transducers
Marine Monitors
Miscellaneous Accessories
Cables
Cables
$80.00
A-TO-D HDMI ADAPTER
$59.00
MJ-A6SPF0003-020C 2M CBL
$99.00
MJ-A6SPF0003-100C 10M CBL
$185.00
WHN 0 STOCK,GO TO 001-594-660-00
$120.00
CABLE HDMI TO DVI 5.3M*
Transducers
Marine Monitors
Miscellaneous Accessories
Miscellaneous Accessories
$745.00
CONTROL UNIT FCV1900
$1,100.00
28khz and/or 50khz Booster Box, 5kw
$1,010.00
JUNCTION BOX RJB-002
$60.00
KNOB (W/D SPRING) FCV1900
$15.00
KNOB 03-177-2034-1 FCV1900
$300.00
CABLE ASSY TS-10-066 FCV1900
$4,000.00
Upgrade Key - FCV1900 to FCV1900B
Call For Price
Upgrade Key - FCV1900 to FCV1900G
Call For Price
Upgrade Key - FCV1900B to FCV1900G
$395.00
Video Interface for FCV1900/CH500/CH600 to NavNet TZtouch3 MFD