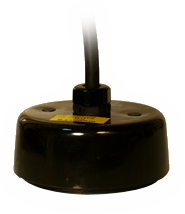 MSRP: $3,270.00
FRP Tank-Mounted Transducer, 65kHz-110kHz, 2kW (No plug)
Shipping Info12 lbs, 14x14x9
Prices and Specifications Subject to Change Without Notice.
All prices shown are in USD. Prices are valid in US and Canada only.
Transducer Features
The CA82B-35R is a new transducer with a wide bandwidth of 65kHz-110kHz, and is useable with the FCV295, FCV292*, FCV1150, FCV1100, FCV1200, DFF3 and BBFF3. When used with the FCV1100/1200, sensitivity remains high even if the frequency is shifted +/- 10% to suppress interference.
The CA82B-35R may be installed in the tank of the CA88B-10 or CA100B-10R. When retrofitting these or other transducers, the directional pattern and sidelobe characteristics of the beam will be different, and therefore the sounder image may differ from previous installations.
Standard Features
2 kW

Selectable frequency - 65kHz to 110kHz

Beam angle becomes sharper at higher frequencies:

68kHz = 12.5 degrees

88kHz = 9.6 degrees

107kHz = 7.7 degrees

Rugged FRP construction - tank mounted

15 meter cable, no connector provided
*88kHz frequency only