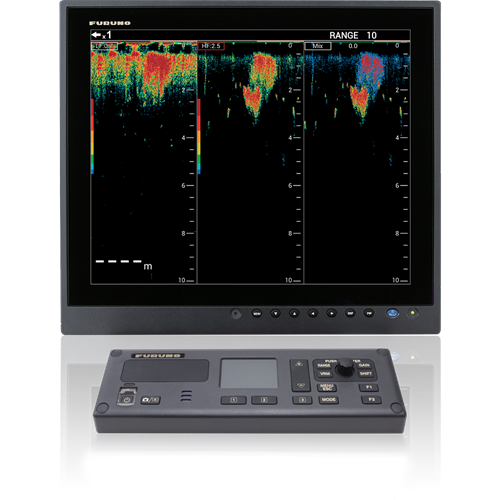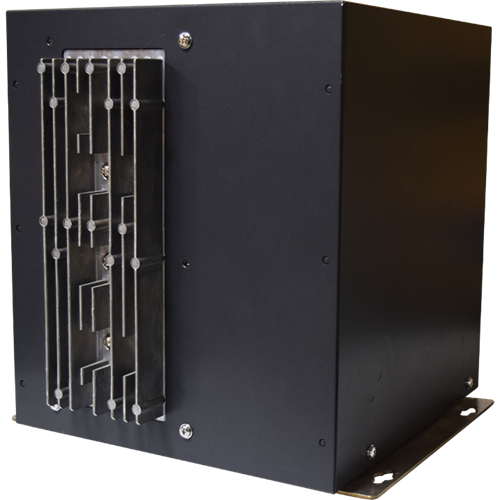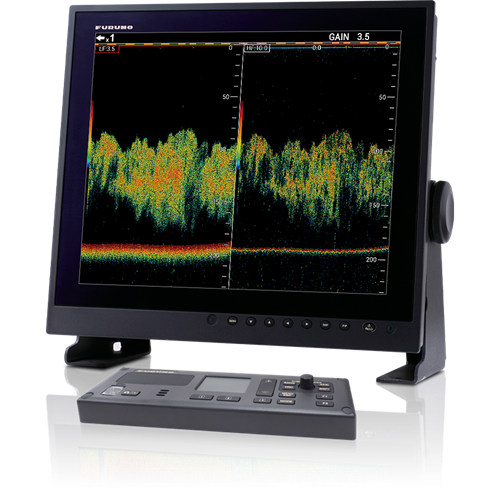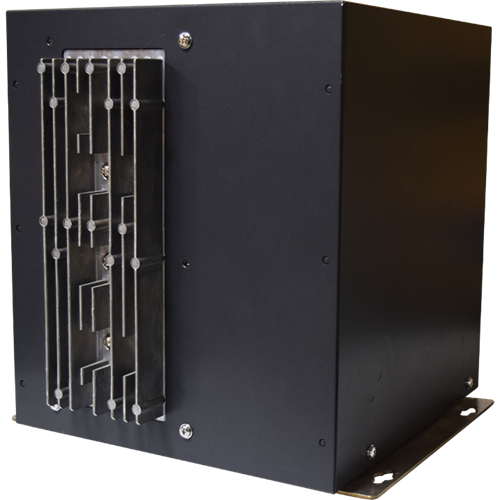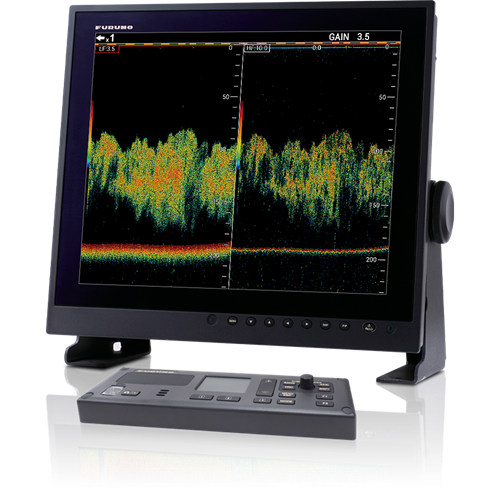 MSRP: $11,495.00
Price Less Transducer
Black Box Hi-Res TruEcho CHIRP Fish Finder
Display SizeSupplied Separately
Display TypeSupplied Separately
Power Output1 kW or 2 kW or 3 kW
Prices and Specifications Subject to Change Without Notice.
All prices shown are in USD. Prices are valid in US and Canada only.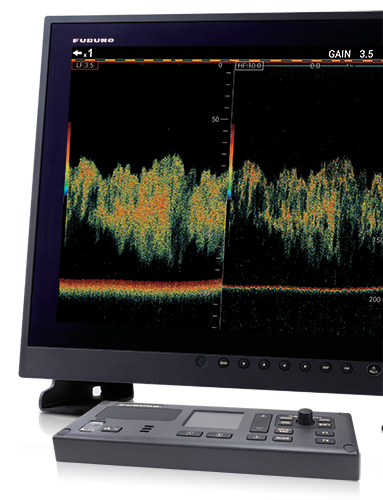 TruEcho CHIRPTM Technology delivers high resolution echoes in shallow and deep water
The FCV1900B is a powerful, high-resolution TruEchoTM CHIRP stand-alone Fish Finder designed for both commercial and sport fishing boats. It transmits in CHIRP, Standard and CW mode depending on your situation, to deliver the best possible targets to your display.
With a transmission rate that has been increased by up to 1.4 times (200m range), the FCV1900B ensures excellent target separation and clarity. The FCV1900B is also available as the FCV1900G with built-in Fish Size Indicator*. FCV1900G offers a precise fish size histogram for accurate estimation of fish size and density of schools of fish. With fish size histogram, targets can be properly evaluated, spelling increased efficiency and profitability.
*TruEcho CHIRP™ compatible transducer required.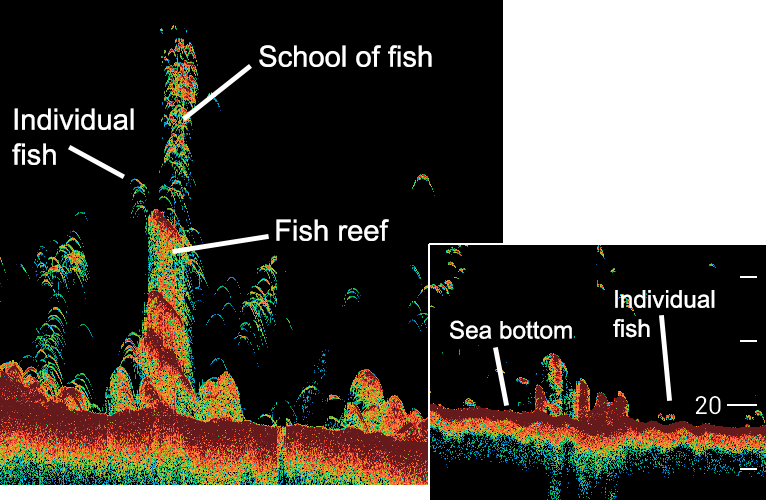 Spot individual fish within schools, off reefs and near the sea floor.
Individual fish can be discriminated within schools of fish, for easy identification of size and species. Additionally, you can easily spot individual fish close to the sea bottom.
To see even more than ever before, now you can display up to four different frequencies together in a compact and easy way by connecting a network Fish Finder. Since there is no need to install additional displays, this system is especially useful for small vessels.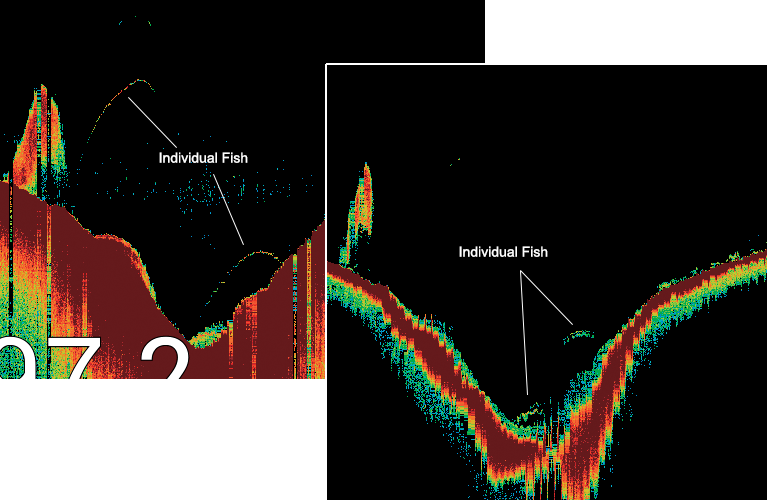 Distinguish individual fish at greater depths
With the FCV1900B's improved depth resolution, individual fish can be observed even at depth of 325 feet and deeper. Individual fish are displayed in a distinct boomerang shape.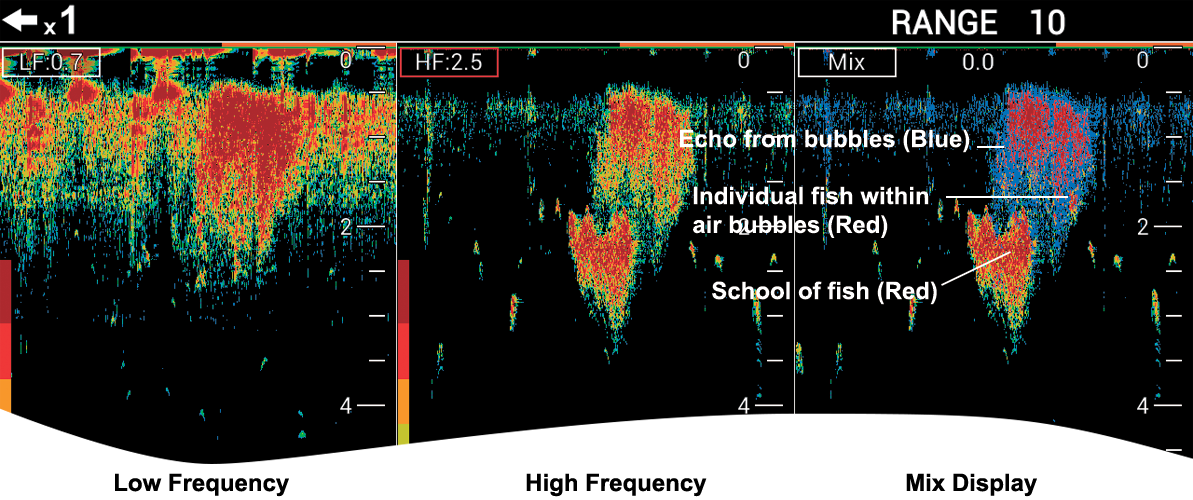 Mix high and low frequencies for a more detailed picture
The Mix Display feature is a great way to clearly visualize exactly what you are seeing and where the fish are located! Even when it is close to the sea surface, fish are displayed clearly. In the Mix Display, which combines the low and high frequencies, the bubbles are displayed in blue, and fish are displayed in bright red for easy target discrimination. (Recommended transducer: CM275LWH)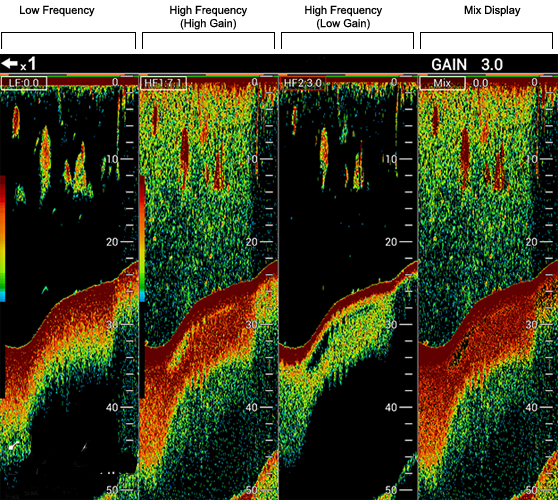 Instantly see what you've been missing
Use the Simultaneous Gain Setting to increase the visibility of the echo returns on the screen. Display two different gain settings simultaneously for increased visibility in changing water conditions and when changing vessel speed.
Cables
Transducers
Marine Monitors
Miscellaneous Accessories
Cables
Cables
$80.00
A-TO-D HDMI ADAPTER
$59.00
MJ-A6SPF0003-020C 2M CBL
$99.00
MJ-A6SPF0003-100C 10M CBL
$185.00
WHN 0 STOCK,GO TO 001-594-660-00
$120.00
CABLE HDMI TO DVI 5.3M*
Transducers
Transducers
$1,600.00
Bronze, Thru-Hull CHIRP Transducer, Low-Freq: 42-65 kHz, High-Freq: 130-210 kHz
$2,500.00
Urethane, 2kW Tank/Cavity/Pocket Mount CHIRP Transducer, 38-75kHz and 130-210kHz
$4,600.00
Urethane, 2kW Tank/Cavity/Pocket Mount CHIRP Transducer, 38-75kHz and 80-130kHz
$1,800.00
Urethane, 1kW Tank/Cavity/Pocket Mount CHIRP Transducer, 42-65kHz and 150-250kHz
$4,995.00
Urethane, 1-3kW Cavity/Pocket Mount CHIRP Transducer, 28-60kHz and 150-250kHz
$7,360.00
Urethane, 2-3kW Tank/Cavity/Pocket Mount CHIRP Transducer, 28-60kHz and 80-130kHz
Marine Monitors
Miscellaneous Accessories
Miscellaneous Accessories
$745.00
CONTROL UNIT FCV1900
$1,010.00
JUNCTION BOX RJB-002
$395.00
Video Interface for FCV1900/CH500/CH600 to NavNet TZtouch3 MFD