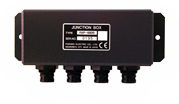 MSRP: $290.00
Remote Control Distributor Box, Three Port
Prices and Specifications Subject to Change Without Notice.
All prices shown are in USD. Prices are valid in US and Canada only.
3-Port Remote Distributor for NavPilot
Using the FAP6800 3-port distributor, you can connect up to three each Non-Follow-Up type remote controllers, (FAP6221E or FAP6231E) to the Navpilot 711C Processor Unit.