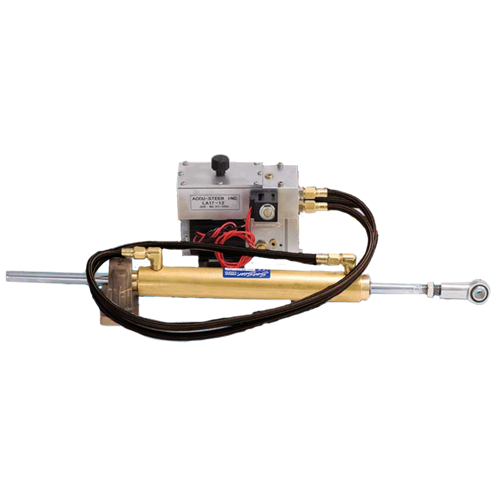 MSRP: $2,750.00
LIN. ACTUATOR PUMP 9" RAM 12V
Prices and Specifications Subject to Change Without Notice.
All prices shown are in USD. Prices are valid in US and Canada only.
Pump Features and Specifications
The Accusteer PUMPLA11-12 Linear Actuator is designed to interface an autopilot system with mechanical steering systems such as wire, cable or chain drives. This linear actuator consists of a hydraulic drive unit, steering cylinder, and interconnecting hoses.This unit is also available as the PUMPLA17-12 using a 1.75" x 9" RAM.
PUMPLA11 Specifications:
Heavy-duty brass cylinder (2" bore x 11" stroke)
1.5" x 9" RAM
Compact and rugged drive unit
Average Motor Current: 3-6 Amps – PUMPLA11-12 (12VDC Motor), 2-4 Amps – PUMPLA11-24 (24VDC Motor)
Cylinder Design: Balanced
Max Cylinder Stroke and Swept Volume: 9 in. (23 cm) and 13.1 cubic in. (215 cc)
Solenoid/Clutch Current Draw: 1.5 Amps (12V)/0.75 Amps (24V)
Max Cylinder Thrust @ 500 psi: 785 lbs (356 kg)
Hard Over Time (HOH): About 13 Seconds
Maximum Rudder Torque (+/-35 deg. @ 8 in. Rudder Shaft to Tiller Bolt Distance): 6280 in. lbs. (710 Nm)
Raymarine Equivalent Linear Drive: TYPE 1 (Recommended Maximum Boat Displacement = 22,000lbs (10,000kg))
Simrad Equivalent Linear Drive: HLD350