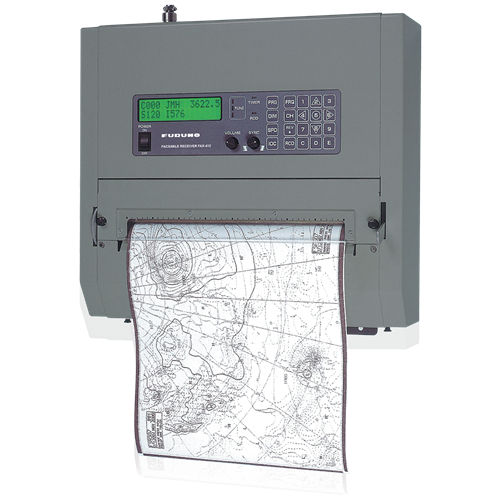 MSRP: $9,195.00
Weather Fax - 10" Paper
Power Usage110 VAC or 220 VAC
Prices and Specifications Subject to Change Without Notice.
All prices shown are in USD. Prices are valid in US and Canada only.
Obtain crucial weather information in all weather conditions at sea
The FAX410 is a marine weather facsimile receiver designed to receive and print high quality, high definition weather charts and satellite images, which are transmitted from onshore stations located around the world.
It can automatically select the receiving band, depending on the quality of current signal reception. This enables the FAX410 to receive the high quality weather charts and satellite images with little noise, even under changing weather conditions. The receiving channels can be selected from the 314 channels in total, consisting of 150 pre-programmed and 164 user-programmed channels. It can also be programmed for automatic, unattended operation by time or by WMO remote signal. Up to 16 programs can be set per week for such an automatic operation.
The weather charts and satellite images are printed quietly on 10" wide thermal recording paper. The satellite images are printed with 9 gray levels (from black to white) to display highly defined images of clouds.
Related Products
Miscellaneous Accessories
Related Products
Related Products
$395.00
Active Coupler with 0.6 Meter Interconnect Cable. Pre-Tuned at 518kHz
$630.00
Active Coupler with 15 Meter Interconnect Cable. Range: 80kHz to 30mHz
Miscellaneous Accessories
Miscellaneous Accessories
$50.00
REC PAPER 10" FAX410/AC & DC