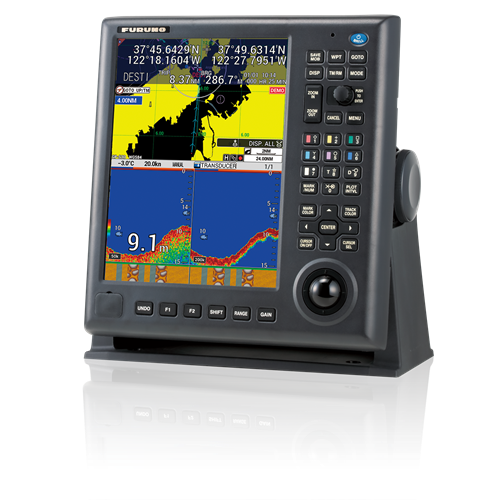 MSRP: $4,895.00
GPS/WAAS Chart Plotter with 12.1" Color LCD Display and built-in Fish Finder
Data TypeNMEA0183 or NMEA2000
Power Output600 W or 1 kW
Prices and Specifications Subject to Change Without Notice.
All prices shown are in USD. Prices are valid in US and Canada only.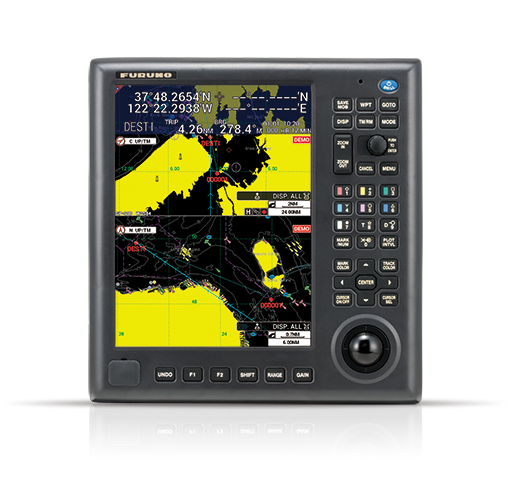 Smart features for simplified operation
The GP3700 series is a high performance color GPS/WAAS Chart Plotter that incorporates an easy-to-use interface while adding new enhancements and features. With a variety of innovative functions, shortcut control keys and a 12.1-inch IPS screen that provides clear visibility, the GP3700 series gives you immediate situational awareness. Large storage capacity for track points, buoy points and marks/lines makes it a perfect solution for long term fishing operations.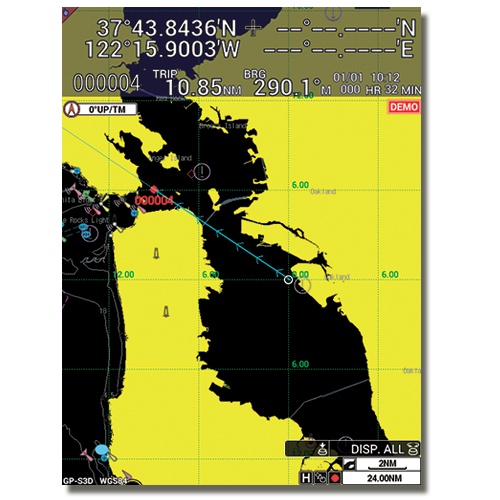 Versatile display modes with MapMedia Vector cartography
The GP3700 Series features Head Up, North Up, Auto Course Up, Course Up, Go To Up, and Specified Direction Up display modes. Specified Direction Up mode is a target-oriented navigation map, allowing the chart to remain vertical in the direction of the target. Easily select the desired display mode to suit your operational needs by pressing the DISP key. Store up to 30,000 own ship track points, 10,000 TT/AIS/GPS buoy points, and 30,000 mark/lines.
The GP3700 Series Plotters utilize MapMedia vector charts including MapMedia C-Map, MapMedia Navionics, MapMedia Fishing charts. Click here to view a refined search of compatible charts.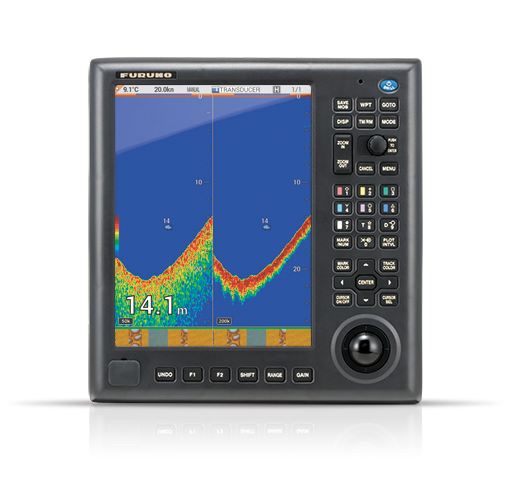 Built-In Furuno Fish Finder
The GP3700F features a 600 watt/1Kw, dual-frequency (50/200kHz) Fish Finder with proven Furuno features such as ACCU-FISH™ and Bottom Discrimination. ACCU-FISH™ allows the operator to assess individual fish size, calculated from echo strength. ACCU-FISH™ can detect fish sizes of 10 cm to 199 cm, at depths of 2 m to 100 m. The Bottom Discrimination feature enables the Fish Finder to indicate if a major component of the seabed is mud, sand, gravel or rocks. A convenient Scroll Back function allows you to scroll backwards through the Fish Finder history to find fishing ground or fish targets again so that you can easily drop a mark and plot a course back to that area.
Cables
Transducers
Bottom Discrimination Transducers
Miscellaneous Accessories
Cables
Transducers
Transducers
This unit utilizes a 10-pin Transducer/Multisensor connection. These transducers enable all standard Fish Finder features including RezBoost, but DO NOT support Bottom Discrimination. To utilize the Bottom Discrimination mode of the GP3700F please select a transducer from the "Bottom Discrimination Transducers" list.
Bottom Discrimination Transducers
Bottom Discrimination Transducers
These transducers enable all Fish Finder features noted in the description, INCLUDING Enhanced RezBoost and Bottom Discrimination. If you will not be using the Bottom Discrimination mode, we highly recommend selecting a transducer from the standard Transducer List. Note that the CA50/200-12M and CA50/200-1T require the use of MB1100 Transducer Matching Box.
Miscellaneous Accessories
Miscellaneous Accessories
$520.00
Trackball Control Unit, FMD3100
$345.00
GPS/DGPS Antenna with 10 meter cable
$730.00
Beacon Receiver Set OP14-80
$220.00
Flush Mount Kit for Disp OP14-83
$180.00
External Monitor OP OP14-82
$270.00
L-ANGLE MNT BASE NO.13-QA310*
$1,480.00
LCD Fixing Plate Assembly GP3700/F LCD