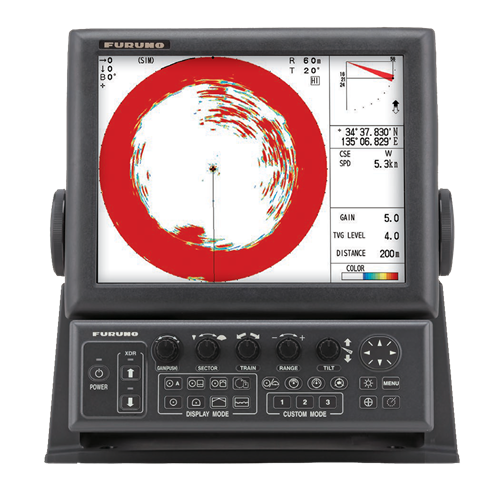 MSRP: Call For Price
MUST ADD SONAR SHAFT
180kHz Sonar System with 8" Soundome and 12.1" Display. Includes 250MM Travel Hoist and operates at 12VDC
Prices and Specifications Subject to Change Without Notice.
All prices shown are in USD. Prices are valid in US and Canada only.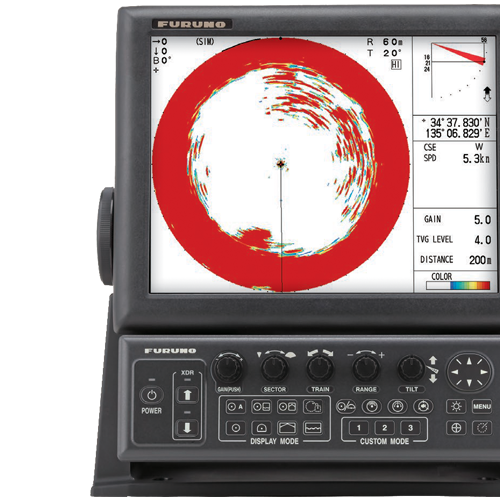 Ultrafast Scanning Speed
This Searchlight Sonar is one of the most comprehensive and fastest of its kind. It provides 6 scanning step variations (6,12,15,18,21,24) easily optimized between high precision modes or a high scanning speed, which can cover 360° in a couple of seconds, depending on the distance of the echoes. Due to its fast scanning speed, it can be used at high speeds while covering a very large area. The Sonar provides the fastest and clearest echo for the ultimate fishing and navigation experience.
While moving fast, use the 24° step scan in order to get a glimpse of your surroundings. If you see something interesting, slow the vessel and switch to the 6° step scanning to produce a clear, high definition echo.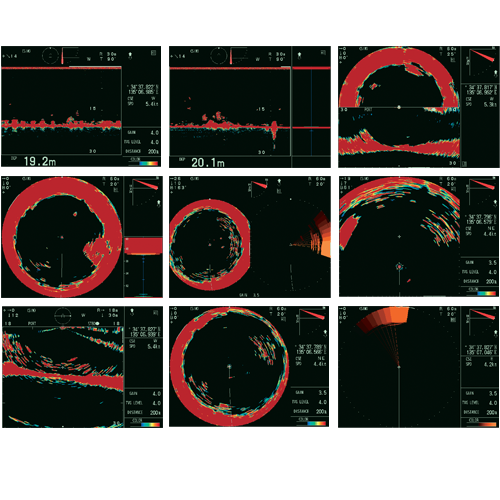 Audible target detection plus a variety of display modes
A powerful signal and image treatment based on a unique interpolation technology provides high-definition images. Even if the fish are located near the seabed, the different echoes are clearly shown and easy to understand. The CH500 delivers a crisp, clear image, reducing strain upon the eyes.
A wide variety of display modes are available, including Horizontal Scan, Vertical Scan, Full-Circle A-Scope, and a traditional Echo Sounder display. A selection of dual-display modes expand upon the Sonar's versatility, including Horizontal + Vertical, Half-Horizontal + Vertical, Horizontal + Full Circle A-Scope, Horizontal + A-Scope, Horizontal + History, and Echo Sounder + A-Scope. The Sonar also features fish and obstacle audio signal notification, depending on the nature and the size of the detected object. Whether there are air bubbles or fish, large or small fish schools, or depending on the texture of the seabed, the emitted sound is different. It is now easy to differentiate fish schools from the seabed they are moving next to, allowing for better comprehension of the surrounding environment for more productive fishing. The usefulness of this feature cannot be understated during long sea trips, as it frees the user from continuously watching the screen. An optional Loudspeaker required for the Audio function.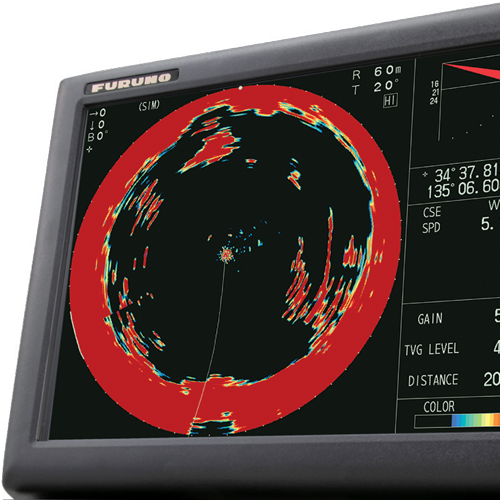 Quick Gain Control and built-in Stabilizer
This searchlight sonar is the first of its class to have in its core an integrated stabilizer. In rough seas, the ships tends to move in every direction and its inclination might change a lot, creating echo distortions which cause inaccurate data display. The role of the stabilizer is precisely to compensate for those negative effects and provide accurate data to the user. Once the stabilizer is activated, the echo recovers to its circular shape and is able to provide accurate data, no matter the sea conditions, boat speed, or inclination. Thanks to the built-in stabilizer's compensation, the Sonar is able to detect fish that may not appear with a non-stabilized echo. Gain adjusts the power of the echo. The higher the gain, the better the detection. However, a too high gain will strengthen echoes of undesirable objects such as air bubbles. For this reason, the gain needs to be adjusted regularly according to the needs of the user. With Furuno's Quick Gain Control, there is no need to wait for the next passage of the Sonar beam to see gain adjustments. The value of the changed gain is instantly applied to the whole circle and all echoes are affected, allowing you to act quickly. No more missing important information, even in deep areas. This new function is extremely valuable if the fish are moving fast and need to be tracked rapidly.
Product Consists Of
Cables
Sonar Shafts And Hull Tubes
Miscellaneous Accessories
Product Consists Of
Product Consists Of
MUST ADD SONAR SHAFT
$4,440.00
CH500 HOIST UNIT 180K 12V 250MM
$1,630.00
SNR OIL/FLANGE/HULL UNIT ASSY
$1,900.00
CONTROL/DISPLAY UNIT CH500
$2,290.00
XCVR UNIT CH500 CH600
$5,750.00
CH500 SOUNDOME 180KHZ 5.2M CBL
$110.00
5M FRU-CCCAF18 XCVR-POWER/CONT
$100.00
5M FRU-HDMI XCVR - MU121C
$175.00
Cable Assembly, Transceiver to Hull Unit, 15 Meter
Cables
Sonar Shafts And Hull Tubes
Sonar Shafts And Hull Tubes
MUST ADD SONAR SHAFT
$6,000.00
Aluminum Hull Tube, 190mm ID x 1.0m L.O.A.
$1,700.00
Steel Hull Tube, 190mm ID x 1.0m L.O.A.
$1,950.00
Steel Hull Tube, 190mm ID x 1.8m L.O.A.
$4,350.00
Steel Hull Tube, 190mm ID x 3.5m L.O.A.
$2,200.00
FRP Hull Tube, 190mm ID x 1m L.O.A.
$2,400.00
FRP Hull Tube, 190mm ID x 1.8m L.O.A.
$390.00
4 Foot Stainless Steel Soundome Shaft. (1.1 Meters)
$600.00
7 Foot Stainless Steel Soundome Shaft. (2.2 Meters)
$990.00
10 Foot Stainless Steel Soundome Shaft. (3 Meters)
$1,200.00
13 Foot Stainless Steel Soundome Shaft. (3.8 Meters)
Miscellaneous Accessories
Miscellaneous Accessories