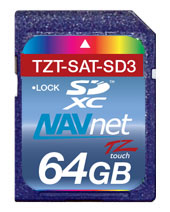 MSRP: $150.00
64GB SD Card - NavNet TZtouch Satellite Photo Data for U.S. West Coast, Hawaii and Southern Alaska
Chart RegionsUSA West Coast
Chart TypeSatellite Photo
Prices and Specifications Subject to Change Without Notice.
All prices shown are in USD. Prices are valid in US and Canada only.
64GB SD Card - NavNet TZtouch Satellite Photo Data for U.S. West Coast, Hawaii and Southern Alaska
This SD Card contains NavNet Satellite Photo data for the West Coast United States, Hawaii and Southern Alaska. All of the data is collected on a single 64 GB SD card for convenience.
Optionally, you can download each of the satellite photos individually. Note that the file size for each area is approximately 1 GB; download speeds depend upon your connection speed and available bandwidth. To view instructions on how to upload the file to your NavNet , please click on the Manuals/Documents Tab. If you wish to download individual satellite photos, they can be found in the Products menu under Charts for NavNet 3D, TZtouch and TZtouch2.
Areas displayed are for guidance only and do not reflect exact coverage. Click Here for a graphic view of the entire NavNet 3D/NavNet TZtouch/TZtouch2 catalog for the US.