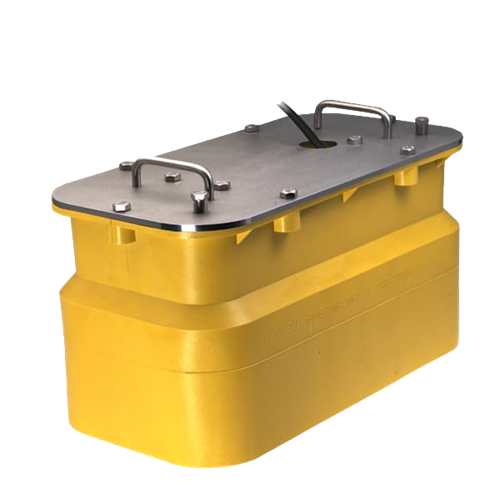 MSRP: $5,300.00
Urethane, 2-3kW In-Hull CHIRP Transducer, 28-60kHz & and 80-130kHz
Beam Angle23 x 9 Degrees and 11 x 5 Degrees and 13 x 8 Degrees
Prices and Specifications Subject to Change Without Notice.
All prices shown are in USD. Prices are valid in US and Canada only.
2-3kw In-Hull CHIRP
The Chirp-ready R599LM delivers the deep-water performance of the low frequency down to 3048 m (10000') plus the detailed returns produced by the narrower beams of the medium band.
Chirp technology shows 5 to 10 times-greater detail and resolution than conventional frequencies. The R599LM transmits across the low frequency bandwidth of 28 to 60 kHz and the medium frequency from 80 to 130 kHz. This transducer delivers up to 82 kHz of total bandwidth in a single installation.
The transducer is installed in the included tank which is cut to the boat's deadrise angle and affixed inside the hull. When the transducer is placed inside the tank, it is properly oriented for optimal performance. The R599LM is a popular choice for customers not wanting to drill a hole in their hull and for trailered or multi-hull boats.
Features:
Depth only
2 to 3 kW of power for superior deep-water performance

Low frequency: 28 to 60 kHz
23° to 9° port-starboard beamwidth
11° to 5° fore-aft beamwidth
Maximum depth of 3048 m (10000')

Medium frequency: 80 to 130 kHz
13° to 8° beamwidth
Maximum depth of 914 m (3000')

82 kHz of total bandwidth from one transducer
Covers popular fishing frequencies of 38, 50, 88, and 107 kHz plus everything else in the bandwidth
Urethane transducer housing with plastic mounting tank
Patented Xducer ID® technology