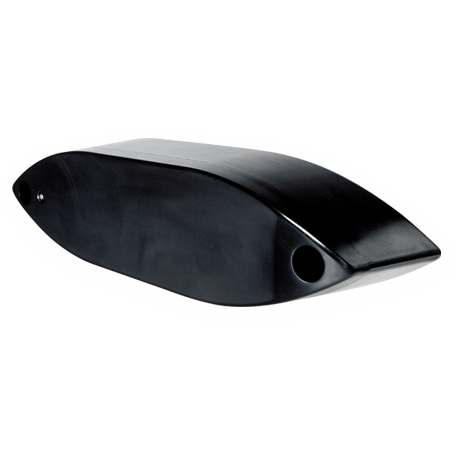 MSRP: $4,995.00
Urethane, 1-3kW Thru-Hull CHIRP Transducer with Temperature and High Speed Fairing Block, 28-60kHz & and 150-250kHz
Beam Angle23 x 9 Degrees and 11 x 5 Degrees and 25 Degrees
FrequencyCHIRP 28-60 kHz and 150-250 kHz
Prices and Specifications Subject to Change Without Notice.
All prices shown are in USD. Prices are valid in US and Canada only.
3kw Wide-Beam CHIRP
Get more coverage under your boat with Airmar's unique wide-beam, high-frequency, Chirp-ready transducer. The high band operates across a frequency range of 150 to 250 kHz and has a fixed 25° beam for all frequencies. The high-frequency band results in superior resolution. The constantly wide beam provides twice the coverage and excellent fish arches on the display compared to most high-frequency, narrow-beam transducer options.
High-wide is the ideal choice for both inshore and pelagic fishing, where resolution and maximum coverage are essential down to 152 m (500').
The low-frequency band is rated to 3 kW and delivers amazing deep-water performance to 3,048 m (10,000'). Get the best of both worlds with Airmar's dual-frequency, Chirp-ready transducer with wide-beam coverage.
Features:
Depth and fast-response water-temperature sensor
3 kW for superior deep-water performance from the low frequency

23° to 9° port-starboard beam
11° to 5° fore-aft beamwidth

Maximum depth performance to 3,048 m (10,000')

1 kW high frequency: 150 to 250 kHz
25° constant beamwidth

Maximum depth performance of 152 m (500')
132 kHz of total bandwidth from one transducer
Covers popular fishing frequencies of 38, 50, and 200 kHz plus everything else in the bandwidths
High frequency provides superior shallow-water performance, bottom detail, and fish-target separation
High-wide beamwidth yields more coverage for detecting fish in the upper-water column
Urethane housing with fairing for optimal performance