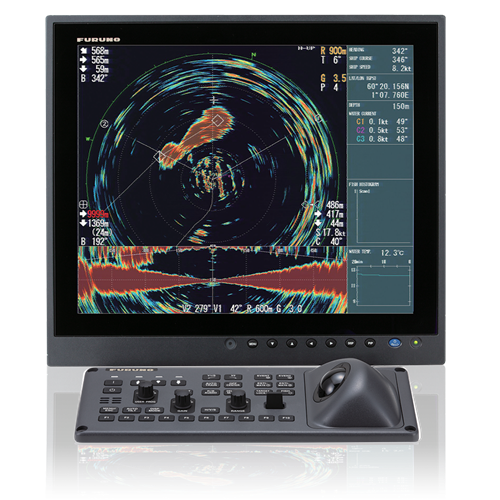 MSRP: Call For Price
Black Box Omni Sonar, 80KHZ
Display SizeSupplied Separately
Display TypeSupplied Separately
Power Usage100-115-120-220-230 VAC or 220 VAC or 24 VDC
Prices and Specifications Subject to Change Without Notice.
All prices shown are in USD. Prices are valid in US and Canada only.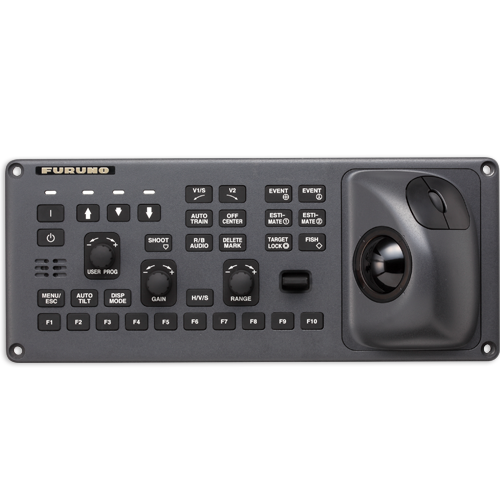 User-friendly programmable controls
The FSV series of Furuno Scanning Sonar has long been a favorite among commercial fishermen, and the FSVx5 carries on that tradition. The FSV series provides reliable and consistent detection of fish and seabed conditions with revolutionary, enhanced signal processing technology. To make operation even easier while underway, you can assign frequently used features to the FSVx5's dedicated Function keys. Preset modes are also provided for instant setup of the equipment according to fishing ground or target species. The User Program Control provides for instant setup of the equipment according to fishing ground or target fish. Ten programs may be set up, and vertical and horizontal display settings may be programmed together or individually. In addition, there are Function Keys at the bottom row of the control unit for you to assign up to 10 frequently used functions. The FSVx5 has the ability to use a dual monitor setup to extend your Sonar display across two screens. Comparing two Horizontal displays or a Horizontal and Vertical display can be easier when using separate monitors.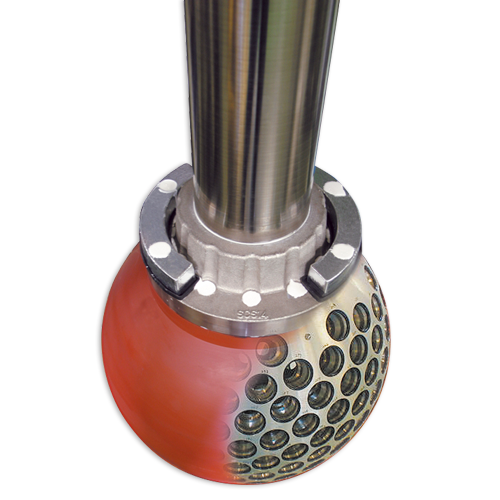 High resolution, long range detection capability
Combining the latest digital technology with a high-sensitivity transducer, the FSVx5 provides long-range detection capability and high resolution sonar imagery. The FSVx5 incorporates a digital filter responsive to the interfering noise, providing a clear view of the display at high speed (18 knots) without affecting the sonar. Beam stabilization mode maintains the sonar beam at required tilt angle by compensating for ship's pitching and rolling. This gives an unwavering presentation of the echo images even in rough seas.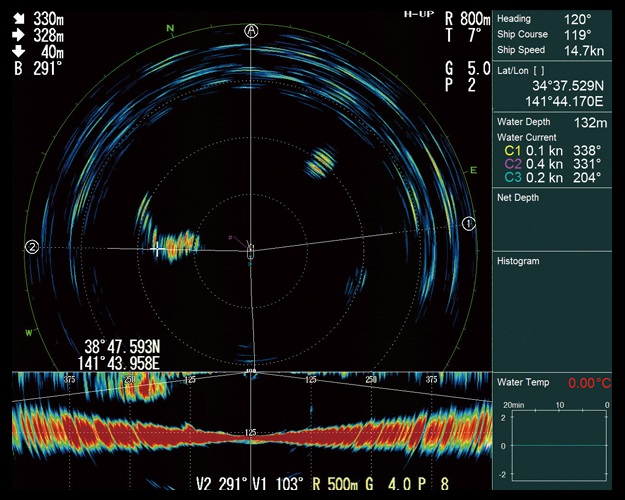 Multiple display modes and combinations
The operator can set up the FSVx5 with two independent Horizontal displays (H1 & H2). It's like having two sonars in one; one display can be set up using a long range/shallow tilt while the second display could have a shorter range/steeper tilt, thus giving the operator two different views of fish schools. In single screen presentation, a horizontal and two vertical scans can be displayed simultaneously. By utilizing both scans, the skipper can locate a school of fish and its distribution in horizontal and vertical perspectives at the same time.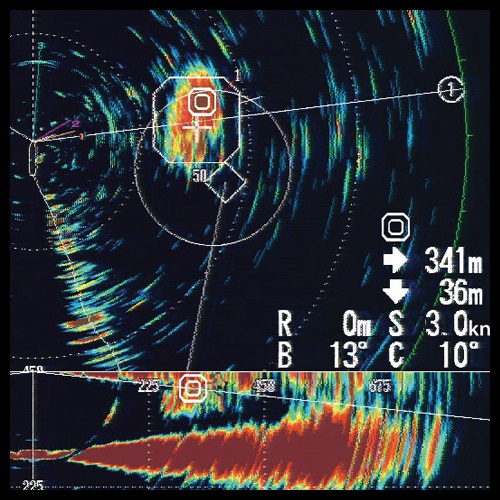 Automatic target lock
The echo target lock function automatically tracks the operator-selected fish school so you won't lose sight of it on the display. The range and tilt are automatically controlled according to the fish position.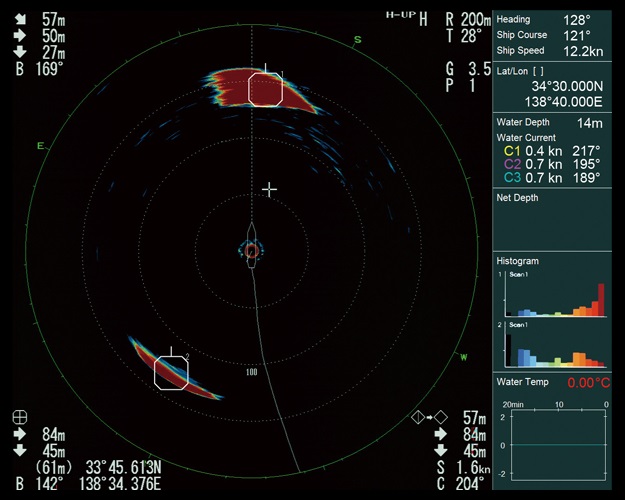 Fish Histogram
The fish histogram shows, in graph form, signal strength distribution for the school(s) of fish marked with an estimate mark on the horizontal and echo sounder displays. FSVx5 even allows you to capture a screenshot of a sonar echo and GPS details to playback and observe targets.
Miscellaneous Accessories
Product Consists Of
Miscellaneous Accessories
Miscellaneous Accessories
$110.00
NMEA Cable, 1 x 7 Pin Connector, 5 Meters
Product Consists Of
Product Consists Of
Call For Price
TRANSCEIVER UNIT FSV85
Call For Price
PROCESSOR UNIT FSV85
$4,175.00
CONT UNIT W/10M CBL FSV35/85
$3,250.00
INTERFACE UNIT FSV35/85
Call For Price
HULL UNIT 1100MM FSV84BB
$525.00
CBL HULL/XCVR 8M FSV35/85
$2,500.00
CBL VV-BB-CJ .3SQX5P 100M FSV
$1,500.00
CBL LAN FR-FTPC-CY 100M W/O CON