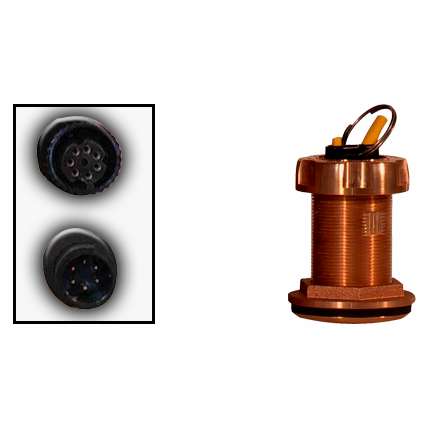 MSRP: $610.00
Bronze Thru-Hull, Digital Depth and Temp Sensor (7-Pin)
Shipping Info5 lbs, 8x6x4
Prices and Specifications Subject to Change Without Notice.
All prices shown are in USD. Prices are valid in US and Canada only.
Transducer Features
Airmar B17 Housing Style Transducer
Standard Features
200 Watts
235 kHz
Bronze Thru-Hull
Depth and Temperature (+/ - 1 degree )
10-Meter Cable with 7-Pin Connector
Cables
Transducers
Miscellaneous Accessories
Cables
Cables
$90.00
NavNet Y-Cable Assembly, use for NavNet to Smart Sensor and NMEA
$100.00
Go to 001-392-790-00
$110.00
NMEA Cable, 1 x 7 Pin Connector, 5 Meters
Transducers
Miscellaneous Accessories
Miscellaneous Accessories
$110.00
Bronze Housing with Nut and Washer
$295.00
Stainless Steel Housing with Nut & Washer. Insert purchased separately.
$14.00
Bronze Transducer Hull Nut