Tuesday, October 18, 2022
Furuno Continues NavNet TZtouch3 Enhancements With Free Version 3.5 Software Update
Free update to software version 3.5 delivers even more groundbreaking features and system enhancements to the NavNet TZtouch3 line of Multi Function Displays
Camas, WA - Furuno has released a free software update that delivers even more groundbreaking features and system enhancements to their NavNet TZtouch3 line of Multi Function Displays (MFDs). These new features are also available for the NavNet TZtouch2 TZT2BB black box system with a software update to version 9.5.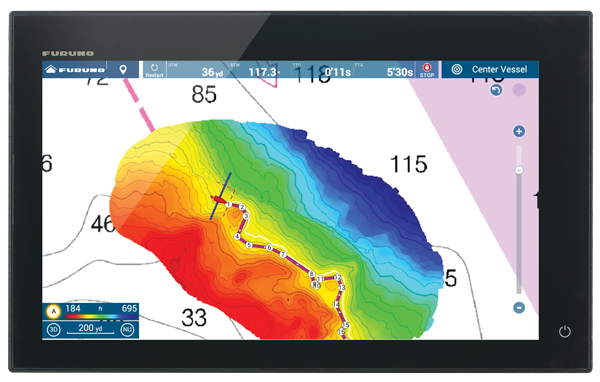 These software updates introduce a revolutionary new feature called Follow-It, allowing users to leverage the PBG (Personal Bathymetric Generator) data from their DFF3D Multibeam Sonar. Follow-It instantly creates a constant-depth route to navigate a specific depth contour. With just a swipe and tap, Follow-It creates a white line on the PBG chart indicating the constant depth. Tapping the line allows the angler to instantly transform it into an active route and send it directly to their NavPilot Autopilot. The NavPilot will follow the depth route all the way around a ridge or trough. By following specific depth contours, fishermen can keep their baits at the same level as the fish while trolling without constantly adjusting the reels. Having your bait at the correct depth is critical to catching fish in areas where tide and currents flow along structure where gamefish concentrate.

Follow-It creates a line on the PBG chart which can be instantly transformed
into an active route to precisely follow along structure at a constant depth
The newly refined Layers Menu, available with just an Edge-Swipe up from the bottom of the display, is now more organized and easier to use than ever. All of the most commonly used functions are available in the Layers menu, separated into logical tabs that bring the information together in a simple way without obscuring the screen. You can tap on the tab you want to view or simply swipe left or right on the menu to access the information you need. Since the Layers menu is contextual, this tabbed interface is utilized for the Radar, Fish Finder, and even the DFF3D Multibeam Sonar screens. This simple change to the UI makes navigating with NavNet TZtouch3 more intuitive than ever before.
Other enhancements in TZtouch3 version 3.5 include refined track management and expanded track memory. Tracks can be easily named, color-coded, organized, or searched for by length, duration, or start date. You can also search your Tracks list to easily find previously recorded tracks.
The capacity for track point storage has been increased from 30,000 points to an impressive 100,000 points, ensuring that navigators have ample space to record and save their tracks. Navigators and fishermen with hundreds or thousands of waypoints know that the chart screen can quickly become cluttered with information. To help reduce the clutter, greater control has been introduced for the size, look, and feel of waypoints that will enable fishermen to more easily view the chart.
When connected to the NavPilot 300 and compatible Suzuki outboard engine models, recently introduced features are unlocked and available on NavNet TZouch3, including Speed Control, Route Smoothing™, Auto Stop on Arrival, Point Lock™, and SABIKI Lock™.
NavNet TZtouch3 version 3.5 and TZT2BB version 9.5 is further proof of Furuno's commitment to improving the most powerful and easy-to-use MFDs on the market. The free software update is available for download now, and can also be installed over WiFi directly from the MFD (requires NavNet TZtouch software version 3.0 or later, TZT2BB software version 9.0 or later). For more information on these new features and enhancements, view this informative first-look video, or visit Furuno at www.FurunoUSA.com.
***