Wednesday, January 27, 2021
Furuno Electronics Provides Fish-Slaying Power To The New SeaVee 450Z Center Console
Furuno and Seavee have partnered to bring you the very best fishing experience possible. SeaVee's recently unveiled model 450Z is available fully equipped with a comprehensive suite of Furuno marine electronics to take your fishing game to the next level.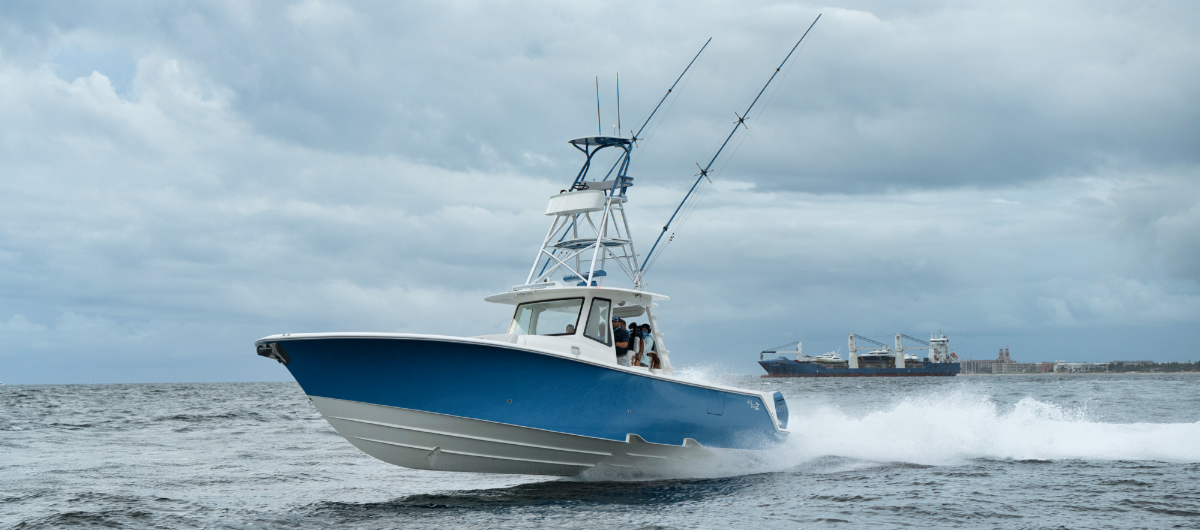 Camas, WA - SeaVee recently unveiled their new model 450Z, an incredible 45-foot center console fish-slayer that is available fully equipped with a comprehensive suite of Furuno marine electronics. To take your fishing game to the next level, Furuno and Seavee have partnered to bring you the very best fishing experience possible. The 450Z is available to order fully loaded with Furuno marine electronics, including a hybrid system of NavNet TZtouch3 MFDs and the recently upgraded NavNet TZtouch2 TZT2BB.
The helm of the 450Z perfectly showcases dual MU245T touch-screen displays, independently driven by a single, powerful TZtouch2 TZT2BB Black Box MFD. All of the electronics can be controlled from the super-bright 24" displays, including Radar, Chart Plotter, TruEcho CHIRP Fish Finder, and the incredible DFF3D Multi Beam Sonar. Over 2,000 charts come pre-installed, with immediate access to NOAA-generated official raster and vector charts for the continental US. C-MAP, Navionics, and CMOR charts as well as bathymetric charts can be unlocked. With the TZT2BB, depth shading, satellite photography, as well as many other features and enhancements are at your fingertips.
Complementing the TZT2BB is the 16" NavNet TZTtouch3 TZT16F MFD, with an additional TZT16F display in the aft cockpit so anglers, not just the captain, have constant access to the underwater action. TZtouch3's impressive dual-channel TruEcho CHIRP Fish Finder is boosted by the DI-FFAMP "Deep Impact" TruEcho CHIRP amplifier, pumping out up to 3kW of power to ensure fish and seabed returns come back strong and clear. Also available is the award-winning DFF3D Multi Beam Sonar, showing fish and structure as you've never seen them before down to depths of 1,000 feet, with side-scanning capability at depths of over 650 feet. The DFF3D's 120-degree swath shows you where the fish are located port, starboard, or directly beneath the boat, even showing you the direction the schools or individual fish are moving. The DFF3D is a game-changer for anglers, and the design of Seavee's new 450Z is all about "fishability", making the DFF3D Multi-Beam Sonar right at home.
The 450Z can utilize the SeaStar Optimus steering system, controlled by the Furuno NavPilot 300. The NavPilot 300 is a perfect match for the 450Z's brilliant handling characteristics, which are enhanced by the pilot's unique Sabiki mode for fishing and jigging. Quad Mercury 450s make the vessel quiet, powerful, and fuel-efficient to get you on the fish fast. Her standard configuration includes three fish boxes with an option for a fourth, and up to five live wells, including two corner wells at the stern.
The 450Z's single-piece, bonded windshield system eliminates the need for aluminum pipes around the command center. This fresh approach allows for unmatched visibility as the view from the helm is not obstructed by the support structures common on conventional center console vessels of this size. Double-row seating and a reimagined helm space ensure the captain and crew will be riding in comfort with easy access to all of the electronics.
Rob Kaidy, Vice President of Engineering for SeaVee, is understandably proud of the work and attention to detail that went into this innovative vessel. "The DNA of this boat from the very beginning is a hardcore center console fish boat. Incorporating our patented Z-Hull technology and then putting the rest of our typical offshore deadrise distribution onto that created a machine that's extremely efficient, that can go really fast when it wants to, and can also go slow really well. You gotta go fast really well, and you gotta go slow really well. With the genetics with this hull form, what we've been really pleased to verify is that the design does all of those things really well. It's a center console at its heart."
Furuno has partnered with SeaVee to make their game-changing marine electronics available on every 450Z, or any other model. To learn more about the new 450Z, visit SeaVee on the web at www.SeaVeeBoats.com. Anglers can also visit Furuno on the web at www.FurunoUSA.com to learn more about the award-winning electronics available on this incredible new center console from SeaVee.
***