Fish Mapping from SiriusXM Now Available On Furuno NavNet TZtouch3 MFDs
Furuno has teamed up with SiriusXM to offer a whole new tool for tracking fish on their NavNet TZtouch3 Multi Function Display running the new version 2.01 software
Camas, WA - Fishermen have many tried-and-true methods for finding the fish species they're after, from tracking birds with Radar to hunting down the weed lines that provide a natural habitat for bait and game fish. Now, Furuno has teamed up with SiriusXM to offer a whole new tool for tracking fish on their NavNet TZtouch3 Multi Function Display running the new version 2.01 software. Fish Mapping from SiriusXM delivers tailored information on fish species location directly to your NavNet TZtouch3 chart, helping fishermen to get on the fish faster than ever before.
Fish Mapping is a subscription-based service from SiriusXM that includes their legendary Satellite Weather. Utilizing the Furuno BBWX4 SiriusXM Satellite Weather receiver, Fish Mapping provides eight distinct features for saltwater fishermen in North America:
Fishing Recommendations identify the areas that oceanographers recommend for zeroing in on six distinct target species.
Weed Lines show the most recent sightings of weed lines, which provide habitat for bait and game fish.
Sea Surface Height Anomalies represent areas of upwellings, eddies and convergence zones where nutrient-rich water is favorable for finding fish.
Sea Surface Temperature Contour lines are simplified graphic representations of sea surface temperatures to help target areas where specific fish species can be found.
Sea Surface Temperature Fronts reveal significant temperature changes that create distinct boundaries between bodies of water, concentrating nutrients which attracts bait fish. Strong and very strong fronts are good places to find game fish.
Sub-Surface Water Temperatures provide water temperatures 30 meters beneath the surface, to help identify where targeted game fish tend to hunt within their preferred temperature range.
Plankton Concentrations contour lines show areas with dense plankton concentrations – bait fish feed on plankton which attracts game fish.
Plankton Fronts show locations of greatest plankton concentration next to relatively little plankton – particularly beneficial when they occur near temperature fronts.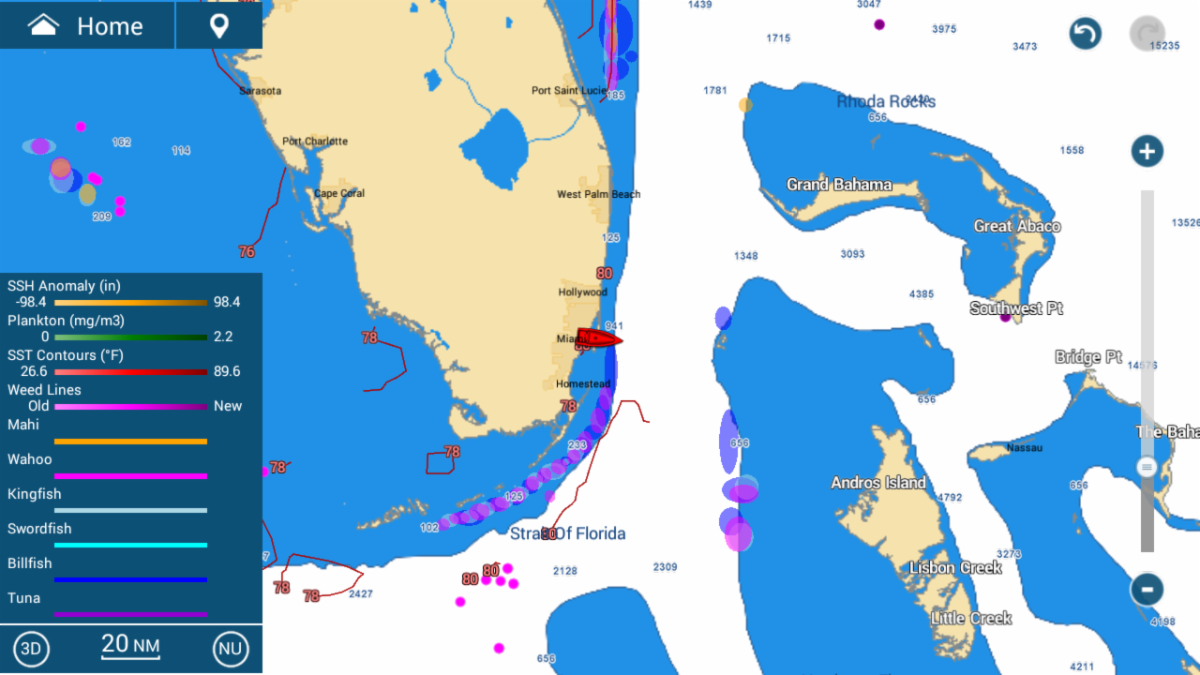 These exciting new Fish Mapping features will give anglers even more information to get on the fish quickly, saving both time and fuel. Recreational fishermen, tournament fishermen, and charter captains alike will be amazed at the amount of actionable information they will have at their fingertips. You can subscribe to the SiriusXM Fish Mapping service now or add it to your existing SiriusXM Marine Weather subscription to make every trip offshore more productive.
For more information on Fish Mapping, visit SiriusXM on the web at siriusxmcommunications.com/fishmapping, watch these videos on how Fish Mapping works on TZtouch3, and learn more about NavNet TZtouch3 at www.FurunoUSA.com or www.NavNet.com.
***